When we bought our cottage geo dome back in 2017, I was excited to move forward with a new space to make our own. But I also was excited to get immersed in my favorite style of home. Cottages are perfect to me because they are imperfect, with cabins being a pretty close second. I love the mix of materials like wood, cedar shakes, shutters, different colors of siding, and brick or stone walkways. Picture flower gardens galore and all the local wildlife coming to visit. Don't even get me started on all the different array of paint colors they can done.
COTTAGE; a small simple house (The Free Dictionary)
Our cottage was perfect for me and my husband because the dome style (contemporary for him) with the cedar shakes (cottage for me) conformed our opposite styles. A cottage is considered a small simple house or small vacation home. My hopes is to enjoy it as both.
When we first moved in, I was completely not in the decorating mode. We had our 5th baby 3 weeks after moving there and to say the least, the first year was really just an adjustment. Eventually our home slowly started reflecting our families personality. And as we welcomed family after family through our doors I knew I wanted to strive to make our home as inviting for them as for us. Thus, hosting gatherings, hospitality, and cooking for many people became our family ministry in a way. And its only growing from there.
….BUT TODAY…LETS TALK DECORATING!
Here are 5 small ways to make your home or cottage feel inviting, for your family and your guests alike.
#1 Baskets
Baskets really are my favorite item to organize almost anything in our home. There are so many different kinds, shapes and sizes, and in different shades of wood or painted in pretty colors. Some have lids or odd shapes that work for whatever your need may be. You can find them at all your favorite stores and I've had great luck at antique booths or garage sales. Yard sales are where I've found some of my favorite ones we own. Sometimes I'm on the hunt for something specific and I can easily run to Walmart, target, ikea or hop on amazon to find the one I need. I've also had good luck on etsy looking for tiny assorted baskets for my girls' dolls at Christmas time.
*This post contains affiliate links, which means as an amazon associate I make a small commission at no extra cost to you. See my full disclosure here.
Ways they are being used in my home right now:
Hosting! When we have have guests, I enjoy using flatter baskets to hold the plates and napkins in for most any occasion. Birthday's, holidays, or just having another family over to enjoy one another's company. Some home made bread or baked rolls out of the freezer, either one looks beautiful wrapped beneath a linen cloth and placed in a basket.
Laundry basket for dirty clothing in my Master Bedroom. Say goodbye to the big plastic laundry tubs. Switching those out for baskets immediately changes the feel of a space. Especially when dragging them from room to laundry room and back. Anywhere they land they still look nice. The plan is to start eliminating the kids current laundry holders as well. We are going to line up 4-5 in the loft upstairs to keep It cleaner looking and it will be a better clothing system for our laundry days.
Picnics and foraging! We have a lovely picnic basket we found at a yard sale. To keep it easy to grab and remember to use, I placed it by the front door and my girls take advantage of it in the Spring and Summer. They love to take it up on our front hill with a blanket to enjoy a snack and reading books. I keep it stocked with linen napkins and cups and small plates. We also have some flat style baskets that are perfect for taking out to hold all your flowers or forest treasures when your adventuring. My girls also use those frequently.
Organizing anything! Right now I have an arrangement of small baskets I keep sewing items in, toys, counting blocks, assorted tea, and really anything I want to hide better but still look nice. When I come across a basket I like and for a good price I grab it, chances are, there is something overfilling at home right now that could have a quick, cleaned up look.
Living in a cottage with 8 people also leads to getting a bit more creative in storage. This home does not have many closets and so baskets have really helped with that. We have a pool so the towels overwhelm the house in the summer. At target one day, I found this beautiful large and round basket and it now holds all our towels near the door to head out for swimming. I wanted a bit of an excuse to purchase that one and found a need! So don't feel to guilty when getting things to help make your home more practical.
I've been eyeing a few new baskets recently to go on top a mid-1800's knockdown we just refurbished (blog post sharing that soon!) Click here and here to see some great basket sets!
#2 Books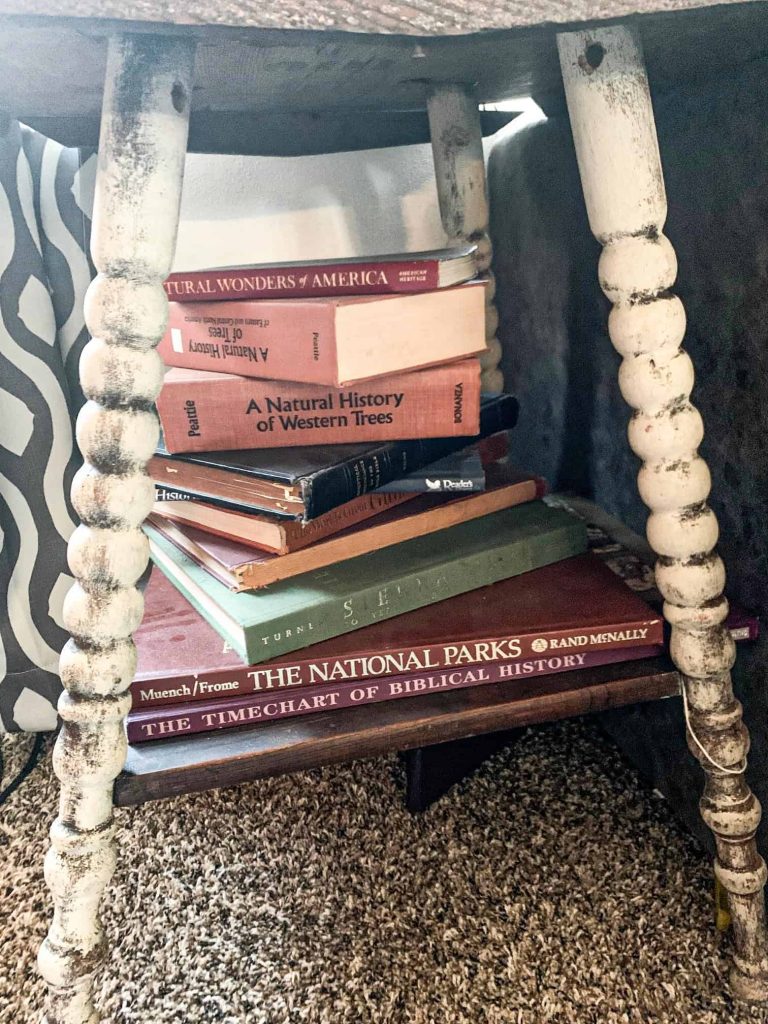 When you walk into a beautiful home or grand hotel or old building. Usually one of the things that makes it feel so comfortable and cozy is: Books. Just being in the presence of books provides an immediate sense of comfort. Even for those that don't read they still get enjoyment from just being around them. Books are just beautiful.
I love finding old books to stack under or on top of a wood side table. On top of the piano. Stacked on top of cabinets and in baskets. Christmas books piled by the tree in December. We homeschool so we have school and history books filling our front room like a library. Our kitchen holds some of my favorite cookbooks and recipes we enjoy as a family. I actually can't think of a room in our home that dosent have books in it. Including the bathroom (What?! for taking a bath…maybe…Ill let your imagination fly on that one.)
All of our kids have their own special spots and shelves in their rooms where they tuck their own books. We even have catalogs from specific places that we like to keep stocked for when it's time to order garden seeds or chicken supplies. These are simple for anyone to just pick up and glance through.
It's hard to imagine any home being cozy without books. Probably one of the most important ways to decorate your home and you can find them EVERYWHERE!
#3 Glass jars, vases, & pitchers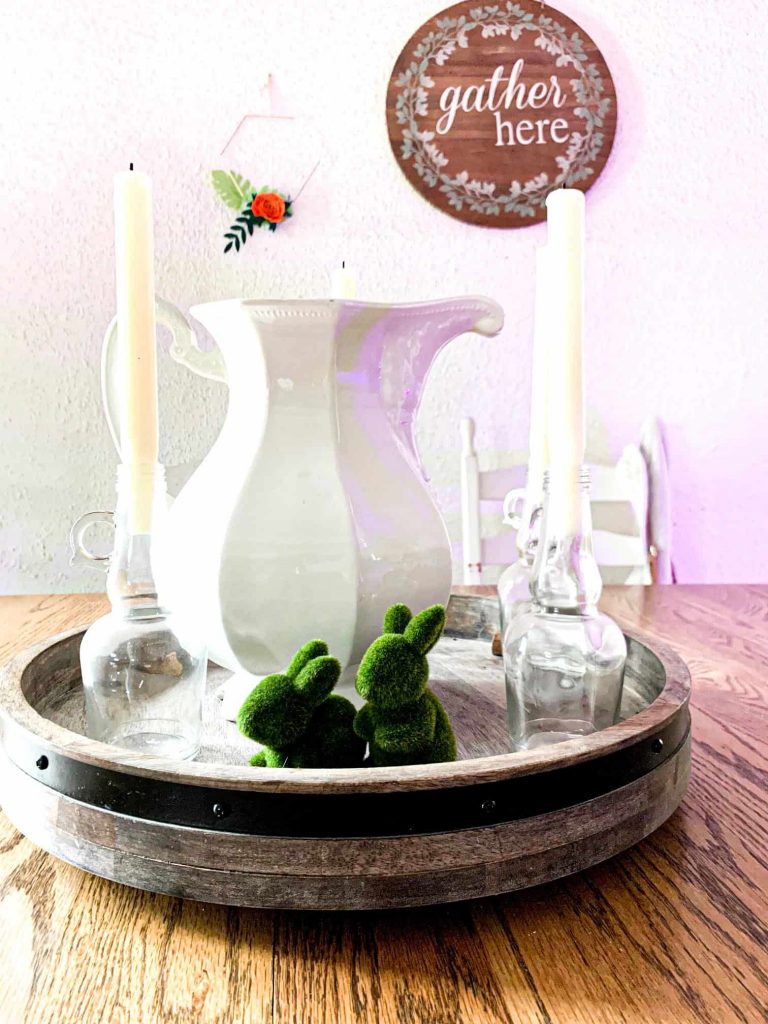 I enjoy cooking and using glass for everything. I'm especially trying to eliminate as much plastic in our home and in the kitchen especially, as possible. Glass and potter jars can help with that and they bring beauty and purpose to any room.
Large beautiful white or small pitchers for cut flowers in the spring and summer I really love to keep on hand. They look lovely on the dining table or piano or displayed on a side table in a living space. Having a pitcher readily avaiable for real or silk flowers makes for a quick decor change anytime in your home. You can move them around easily and interchange them frequently. This keeps things looking just a bit different all the time. If you can cut some flowers from your own garden and display them, it's even more rewarding! Hoping to share about a cut flower garden more soon! We are working on planting more flowers for that specific purpose this summer!
You can even enjoy your vases outside on a covered porch or near your front door. Maybe on a picnic table for eating lunch or dinner outside while grilling. They can move with you everywhere. Such a simple way to bring color to any space.
Glass jars and canning jars are quite popular, especially over the past few years with so many more people learning to plant vegetable gardens and can. I worked on our pantry last summer and have lot's of different sized glass jars to keep bulk items and spices organized and love how it turned out! Want to know where I source my spices and bulk items? I talk about that in this post: From Scratch Creamy Maple and Brown Sugar Oatmeal
Canning jars also look good as drinking glasses in the cupboards. They are not just for food. I recently picked these ball flute canning jars up (click here to see) and my girls (and myself) keep snagging them for our drinking glasses. They are such a pretty shape compared to normal canning jars (so, dual purpose) and I'm going to have to pick up another 4-pack soon. We also put buttons or art supplies in some of our jars! If you don't have a basket for something, you may have a jar that can help you out!
#4 Hand-spun Pottery
I can not emphasize enough that ceramics and glass are lovely. But true joy comes when serving guests home made soup in something someone created by hand. Real pottery. The kind that someone sat at a wheel and their hands worked and their mind created and molded the item you are now enjoying. Cups, plates, bowls, pitchers and more. They don't just come as coffee cups although that's what we like to fill our cupboards with.
When we go on a trip we always look up a local potter or shop that carries a local potters work. We stop in and grab a piece or two to take back home with us. It's a very purposeful souvenir and will delight you and take you back every time you use it. I'm actually on the hunt for a pretty old English pine hutch to display our collection in. So if you have one for sale shoot me a message and image.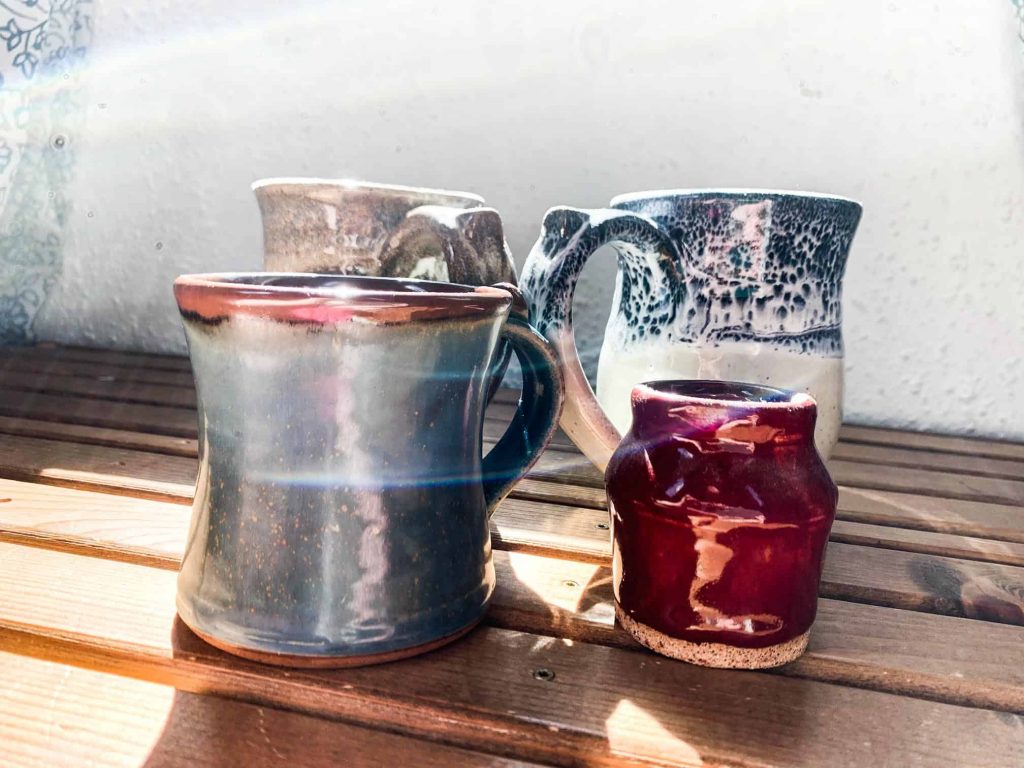 You really can't go wrong filling your cupboards and open shelving with pottery pieces. More than likely, you will find a potter whom their pieces are just the perfect colors and design that keep you going back for more. It becomes a purposeful form of art in your home.
Find some pieces you love on your next day trip or getaway and you won't regret it! Always take a card or jot the name down so you can find them again if you need to get more in the future.
#5 A cottage niche or theme
You can find cottages pretty much anywhere. Small country towns, by the sea, in the woods, tucked in-between brownstones in a large city.
Most, not all, which leads us to this last thing, has themes. Sometimes they are pretty vibrant and you get knocked in the face with it, maybe before you even walk in the door. But usually its more discreet and you just see hints of it. Thats more how its done in our home and its fun to search out someones niche.
Can you guess ours just by the shape of our house? Click here to see a photo of our dome home.
Bees. Our home has been called many things and "the hive" is one of those names. I love bees and they are the next animal we would love to add to our little homestead. We hide small elements of bees, hexagons, honeycomb text, and we love tea around here, so honey is just a given.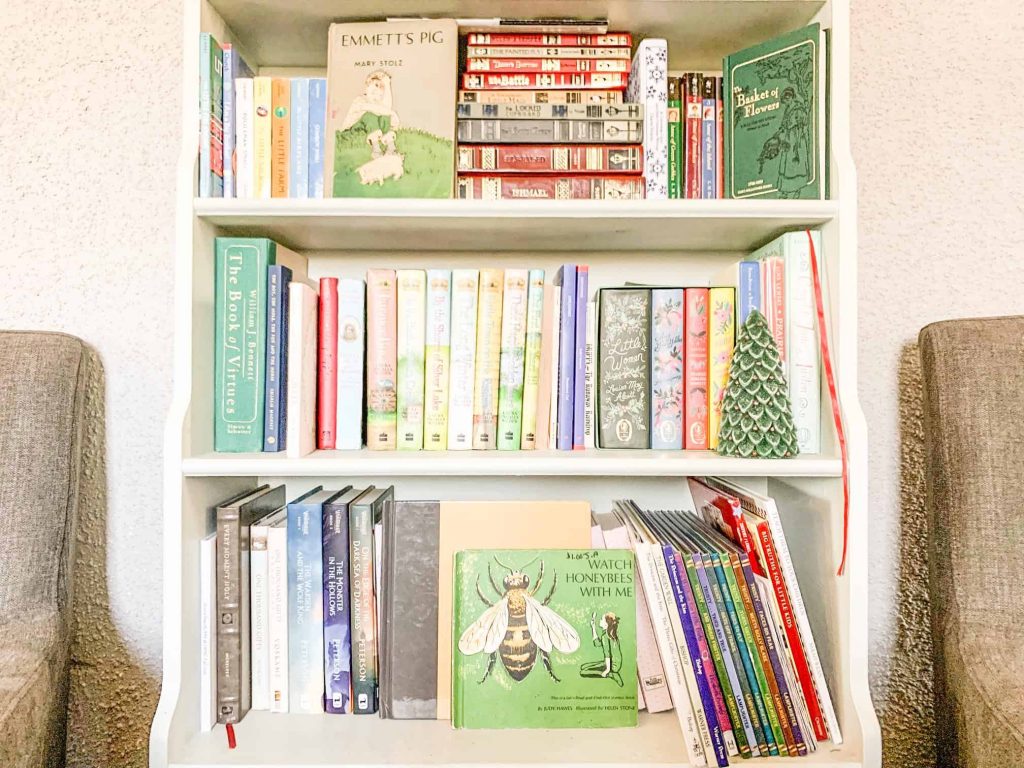 I have pretty bee inspired books displayed on some shelves, jars with honeycomb designs, a couple bee posters, and more hints throughout our home. Enough to where you could find it but may not notice it the first time you visit.
We are planning to update the upstairs bathroom that our children primarily use. In that planning we will be putting some very small hexagon tiles mixed in with some subway tile in the new bath to keep adding those shapes and elements to our home. It's makes the designing process really fun and does not have to be overkill.
Your cottage may be near the seaside so you have sand dollars or turtles displayed around your home. My grandmother always had chickens in her wallpaper and knickknacks. She never actually had chickens but they were apart of her. Some up North may have Moose or loon ducks hidden around their home. There is always some suttle way to include them. It doesn't have to be overdone and can be something someone really learns to love about your home when they visit. When they see something similar while shopping they may think of your home and all the fellowship, joyous times, and delicious meals they enjoyed there.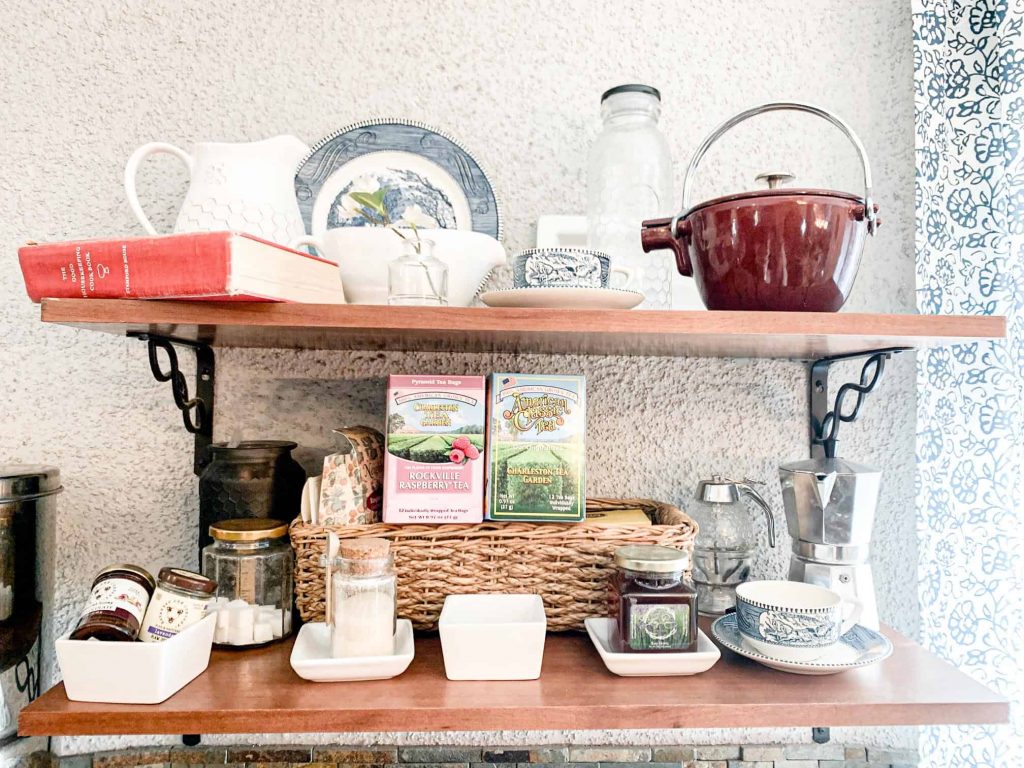 Hope this gave you some inspiration for your own home! Keep your eye out for a Part 2 blog containing 5 "large" ways I keep my home inviting.
SAVE ON PINTEREST SO YOU CAN GO BACK TO IT LATER!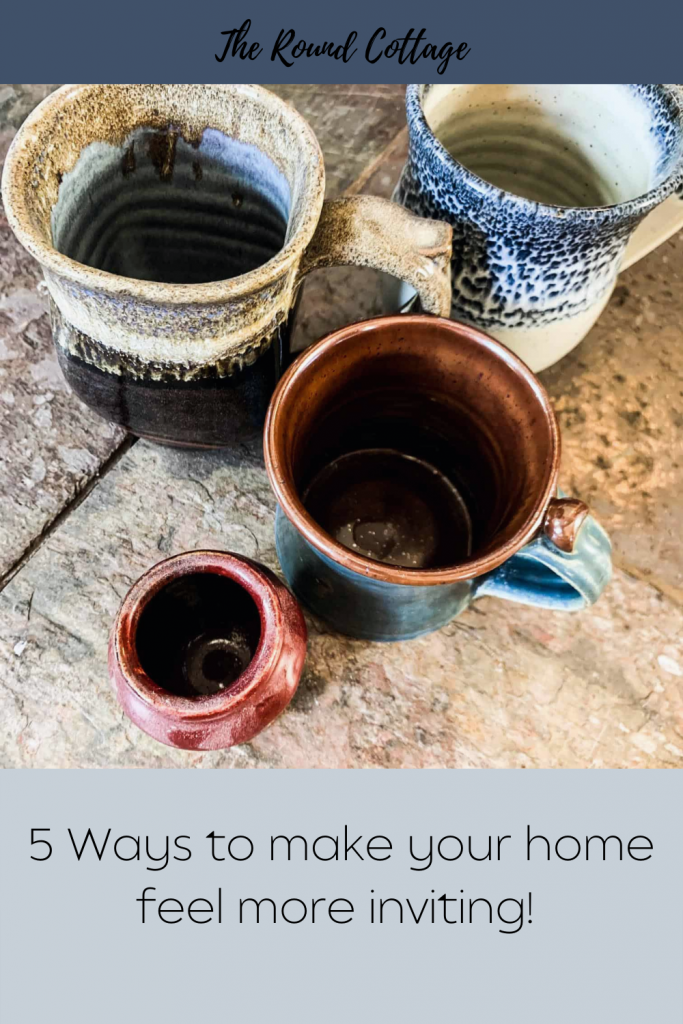 Drop some comments below, I'd love to know if you have some more useful ways you use the materials above!