Needing to build a triple bunk bed for your kids bedroom or a bunk room? Here are some ideas from one we built in our big girls bedroom. Maybe you have an odd shaped space you're trying to create a large bunk bed for? We built this to fit a space for a bedroom with a rounded wall in our geo dome house.
PIN IT LATER FOR A TRIPLE BUNKBED BUILD IN THE FUTURE!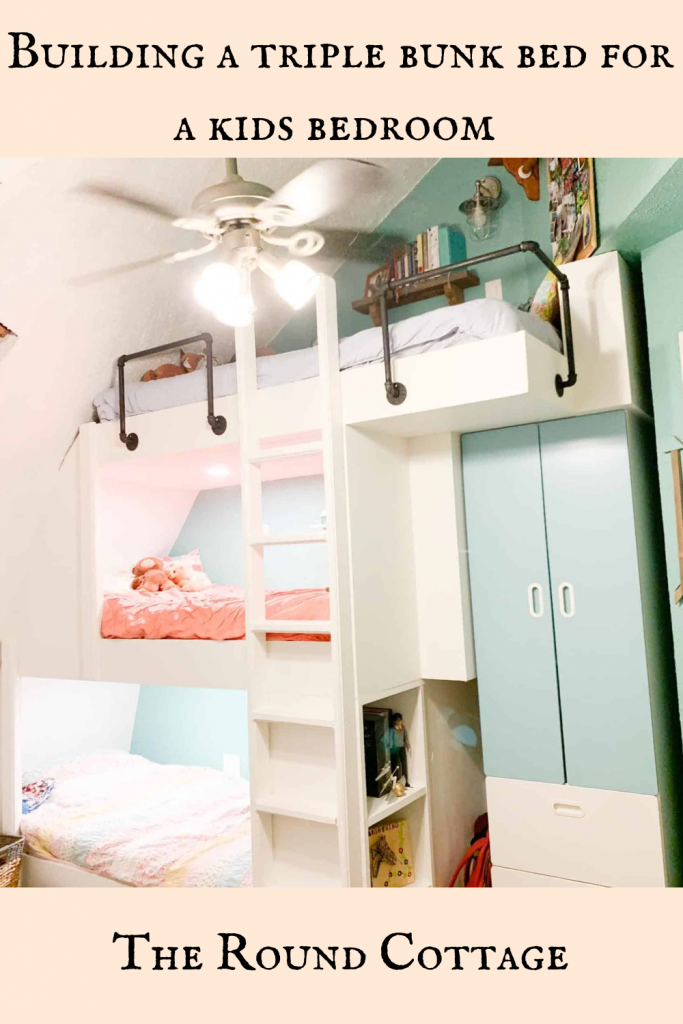 We bought our geo dome because we loved it's uniqueness, but also because we loved the acreage it was sitting on. Close to town, yet right outside city limits on a beautiful winding country road. I knew it would take a little creativity to work for our family. We were expecting our fifth baby 3 weeks after we bought it ( we now have 6 kids running around the dome as I write this.) It had ALOT of potential though and we weren't crossing off a possible addition in the future either.
I'm sure many of our friends and family even, were wondering why we would buy a three bedroom/two bath home when we are a family of seven (eight now.) But honestly, we were and are used to tight spaces. We lived in a 900 square foot bungalow for ten years and at our tightest, we had four daughters sharing one little bedroom together. We know how to maximize small bedrooms with multiple kids. Giving each child their own special space and organizing it in a way that works well for everyone.
Top of the dome.
Upstairs in the dome area we have a loft we use for a play space. We have one large bathroom for all the kids to share. We have two bedrooms: one larger, one smaller. Then we have a spiral staircase in the loft that takes you up to the eagles nest; a smaller lookout room with enough space to have a desk or reading nook in ( or to scatter legos and/ or play mobil all over in.)
You may wonder why we don't just turn the loft into a third bedroom? We could. But we prefer more livable space for our family since our bedrooms are primarily for sleeping. We also enjoy our family being around one another throughout the day. There are still many little spaces all of us can rest throughout the day if we need a quiet moment to ourselves. It also would change the configuration of our home. Standing on the first level, you can see all the way up two spiral staircases to the third level nook. It's pretty impressive. And it would be pretty sad to take that special element away.
So we found another way for now. A large triple bunkbed for our three oldest daughters. Each having their own personal space boasting their own reading light and book shelves each. They loved the idea, too! So we made it a reality.
Building Plans:
I wasn't kidding when we had to get creative with this one. We thought over this project for months or really years, going back and forth with ideas and where we were going to place this triple bunkbed we knew we wanted to come to life.
Some ideas were scattered beds with two on one wall and one on the other. We tried bed combos on different walls in the room. Everything seemed to take up to much 'area' space. We still needed to keep some open space for some individual dressers as well. So, we eventually stuck with the same space where a regular twin bunk bed had been for the last two years.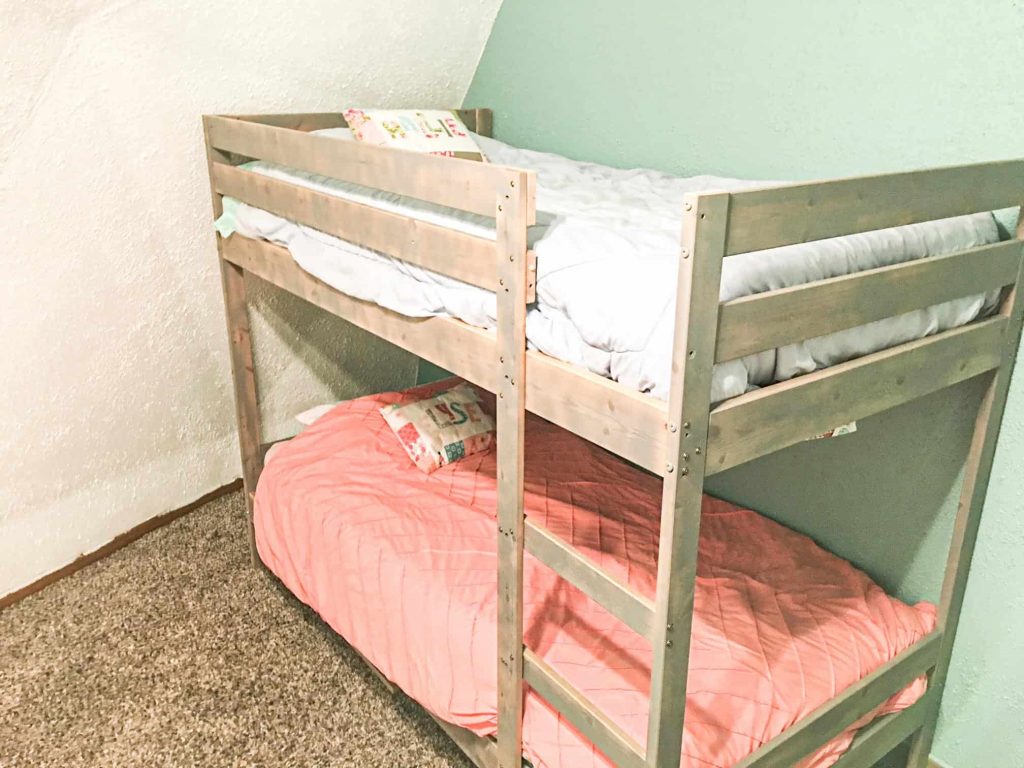 Having a dome home, their bedroom has one sloped wall. But it also has very high ceilings as you come towards the center of the room. So we took advantage of that high space and followed the slope of the dome which eventually became what you see below.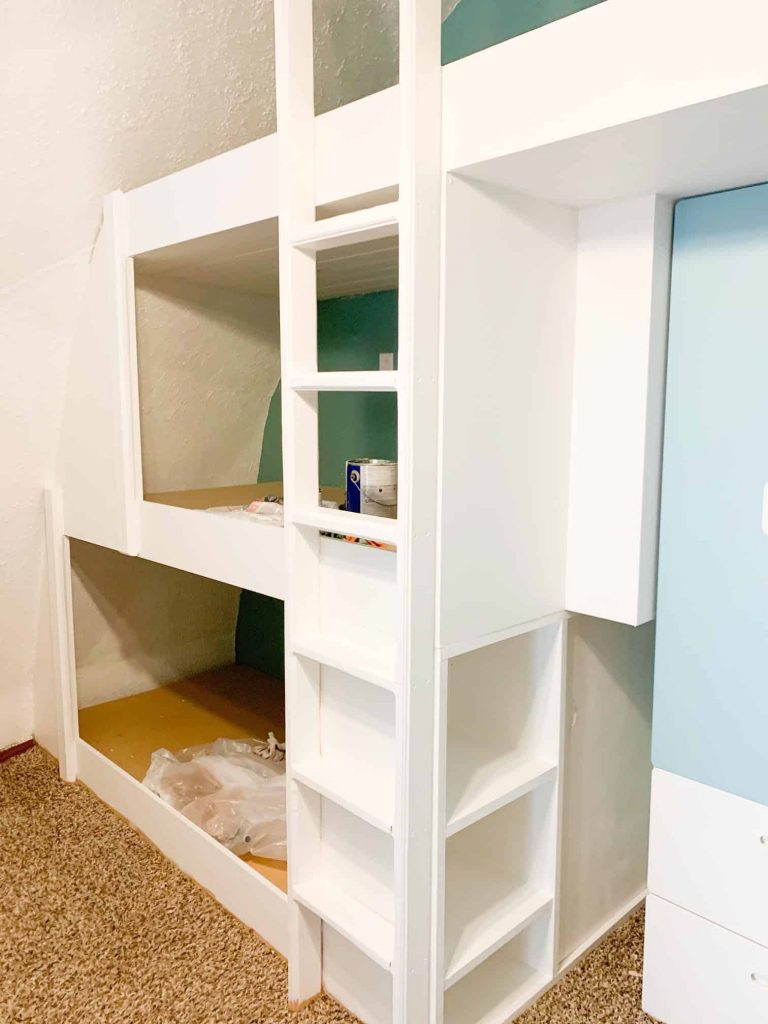 I really wanted it to look like a large built in. Something that looked like it was always meant to be there. Hopeful it would add to the space and made the room feel larger. And for sure something kids would think was awesome. I feel like my husband nailed it!
We already had an ikea wardrobe so we made that to fit under the highest bunkbed for more storage since we were loosing what once would of been "under the bed space". Ya know, the space you stick luggage or sleeping bags, or a tote of toys, etc.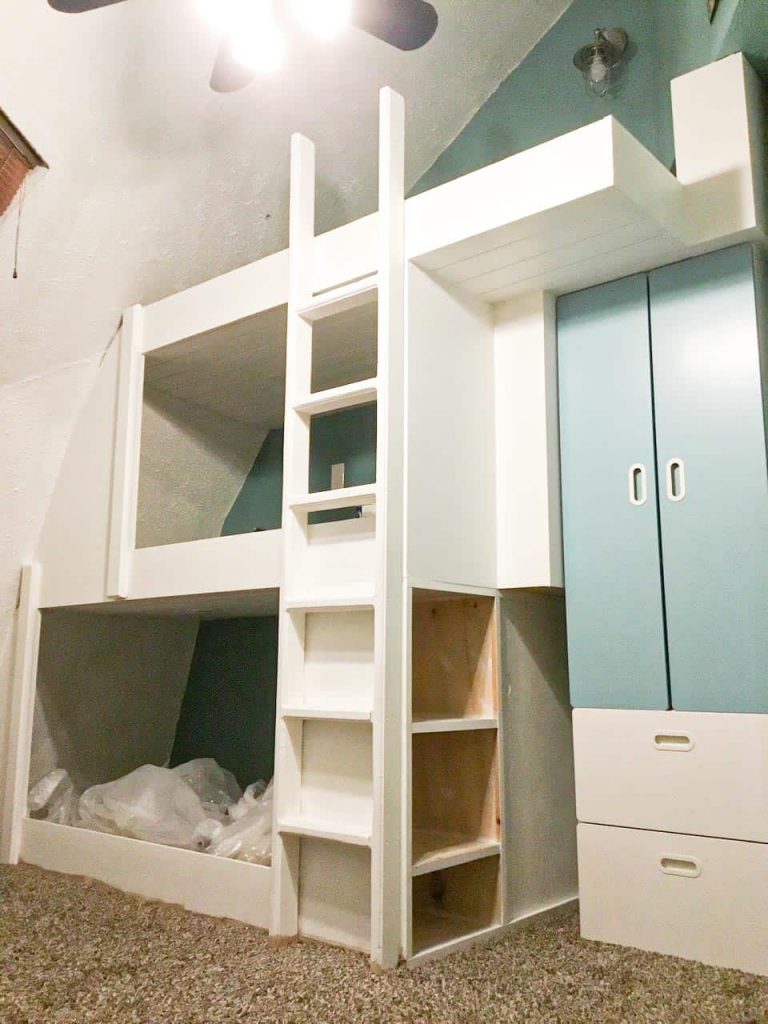 He gave the bed a stair effect where each bed comes out a little farther and follows the rounded wall perfectly. Each bunk is just a little different or unique to the one above or below it.
The bottom bed has the largest book case and a secret(ish) compartment at the end of it's bed. It has an LED light on it's ceiling and own light switch. My third daughter fills her compartment with all her crafts, rocks she finds outside, and all the things she treasures.
The middle bunk has a smaller book case for primarily chapter books. It has an LED ceiling light like the bottom bed. Probably the coziest one being the smallest with head space and length space of the three. It fits my second daughters personality perfectly though and she loves it.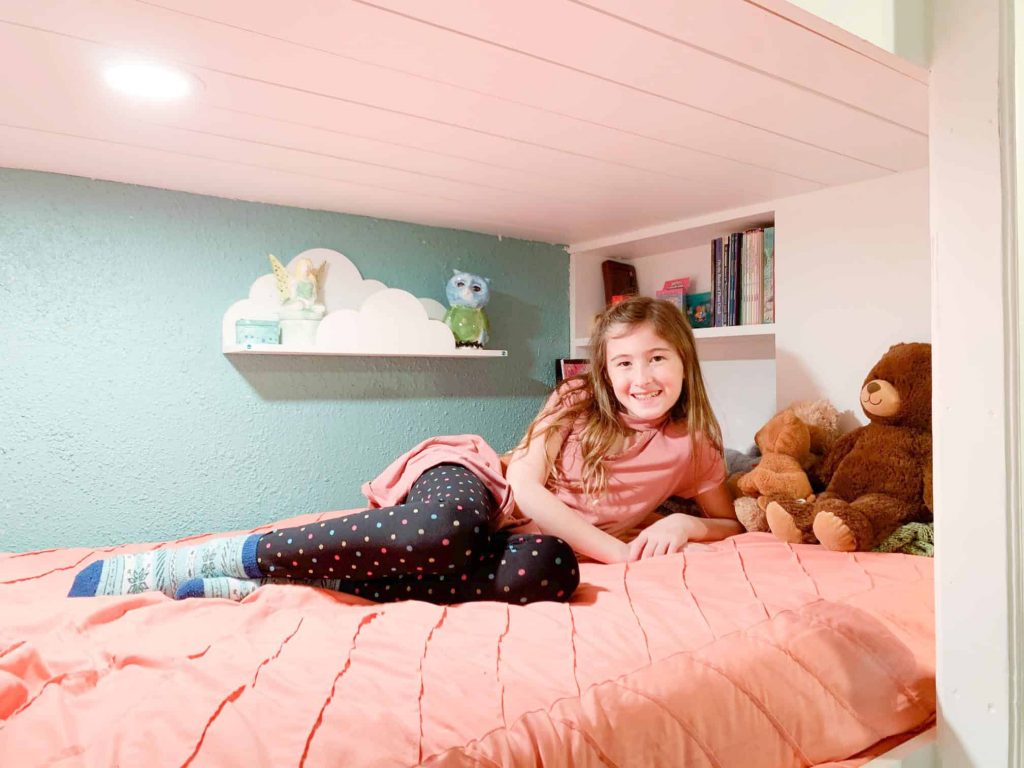 The top bunk is like a loft in itself. The wall slopes at the feet end quite a bit, but has lots of space on the head end. We added pipe railings all around for extra comfort being the highest bed. She has two shelves of books and a sconce light on the wall instead of a ceiling light like the other two bunks. Probably the most unique bunk of the three. My oldest loves this bed in the sky and she enjoys how high it is.
The bed overall also has extra shelving on the outer side of the built in and a small space to store back packs and such. Each of the girls have a cork board they have added on the inner walls of their bunks donned with photos, poems, special letters, camp friends, and more.
This bed has been one of the best things we've added to this home and even when we have two or one child in there, this bed will live on. Possibly for future guests or maybe even our grandchildren one day!
Building Materials & Paint Color:
The girls had this turquoise blue color in their room before we even started on the triple bunk bed. So I knew I wanted to keep the color for accent (which also would make for less painting in the end.) I wanted the bed to be white to keep it bright and large feeling, well, as much as we could with a giant built in bed. I hunted down the creamiest white I could find. We ended up with Benjamin Moore's "SIMPLY WHITE". It was perfect. It won best white many years and I can attest to why. I've gone back and used this same white paint for some other projects around the home because its just that great.
Building the triple bunk bed:
My husband first framed the bed shape up.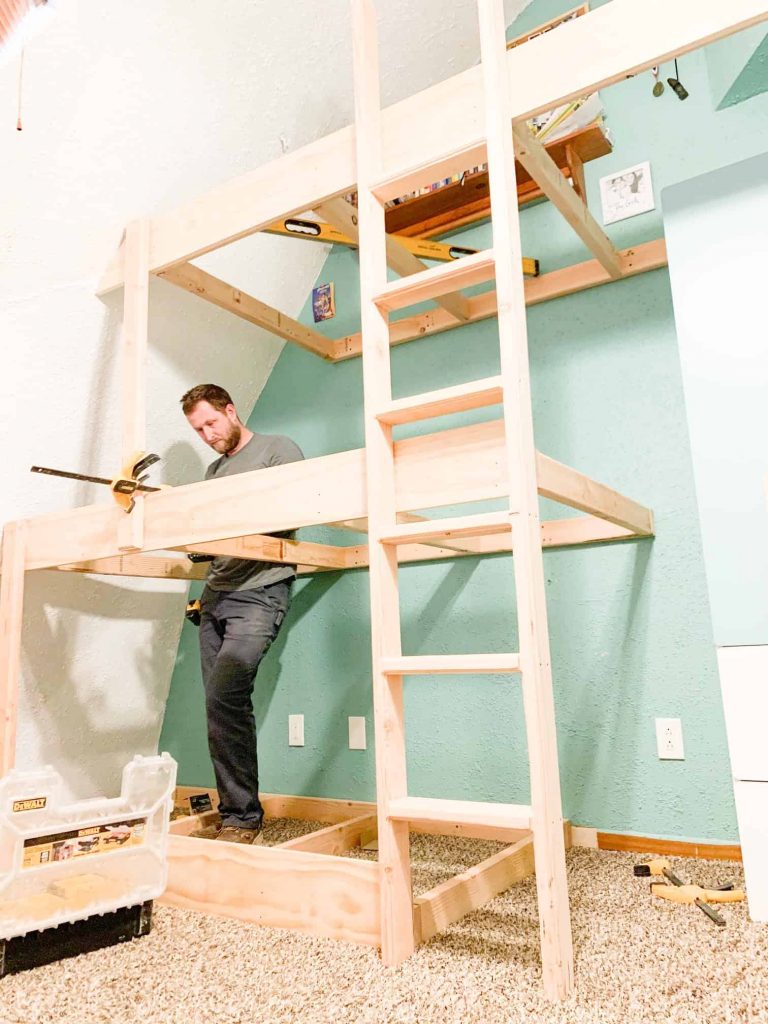 Then we had a wonderful friend stop in and help with the paneling on the two lower bunks for their ceilings.
Then he was able to put the large plywood sheets in for the mattresses to sit on.
He cut a hole in the panels on the bottom two bunks each, for the LED can lights to fit in. He did the electrical for those lights and the light switches as well. (Plan on a professional to do that part if you don't have experience in electrical.)
The ladder was built with 2×4's and using a wood router, he routed the edges to give it some design.
He put some wood sheets on the outside of the bed for privacy for the bottom two bunks and to give the rounded wall that built in look.
He measured and fit piping to the top bunk which we spray painted with a black matte color to cover up the numbers on the piping when you purchase it.
We purchased all the lumber, nails, panels, piping, spray paint, and most everything from Home Depot for this project. The paint and painting supplies we bought from ace hardware, which is the only place that had Benjamin Moore paint in our area.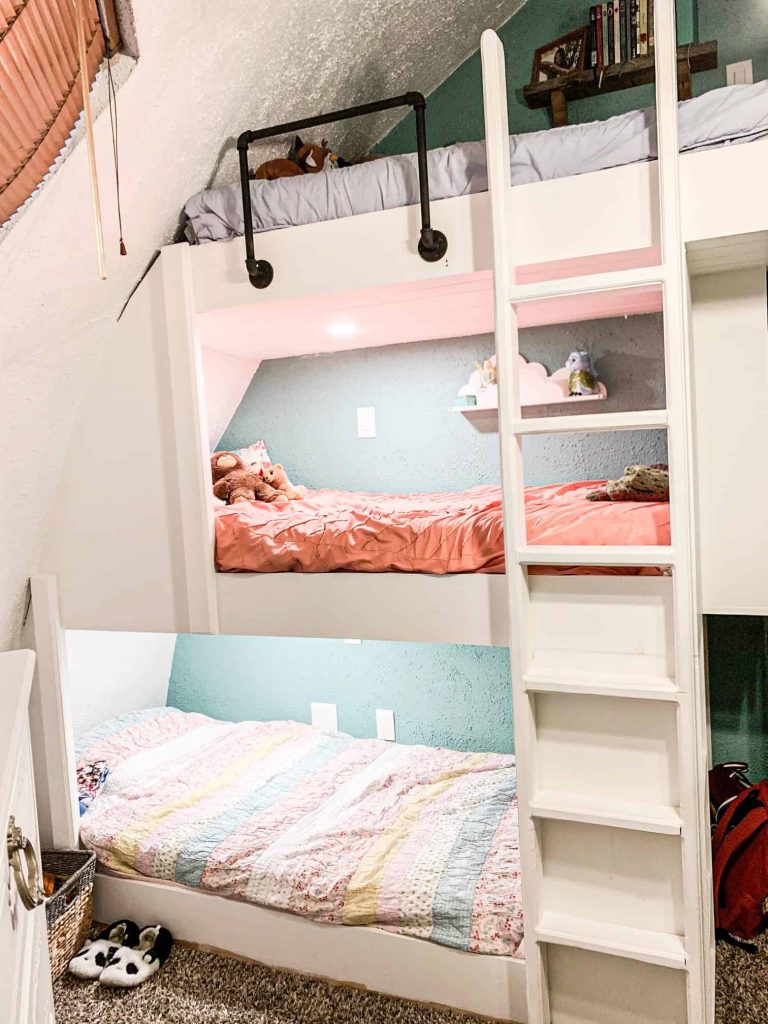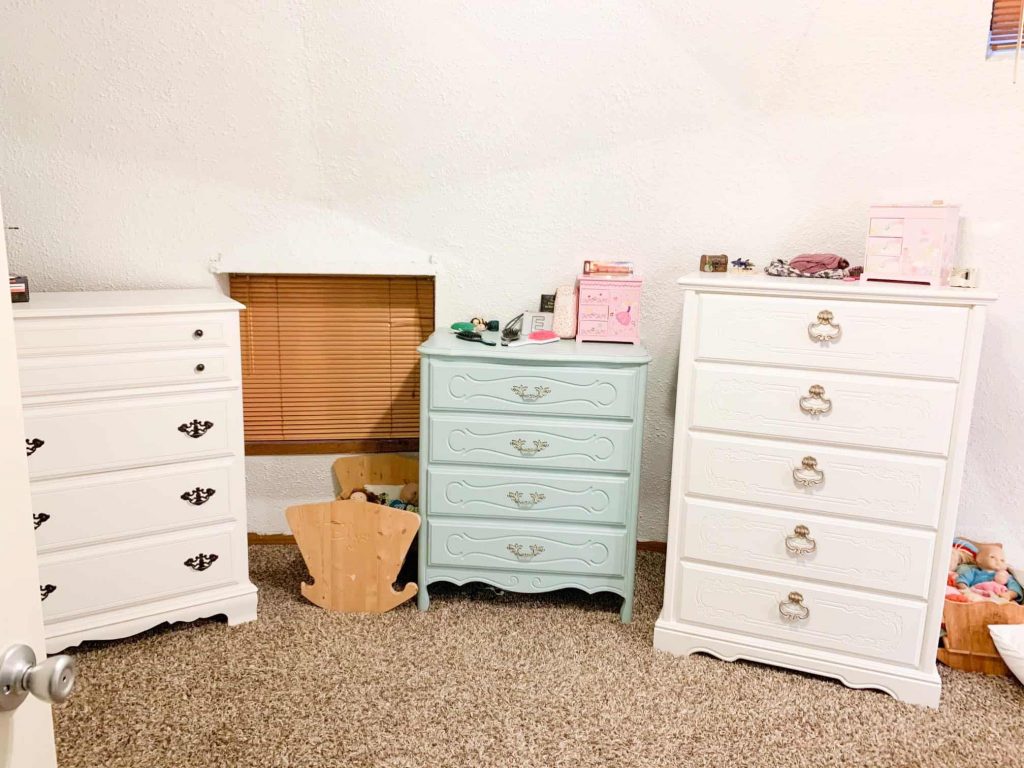 Time and Cost:
Overall, this project took us two separate weekends to complete with a couple evenings during that inner week when Les came home from work. I was seven months pregnant and we had a friend that came and helped with the panels which we were super grateful for. Otherwise we completed the rest ourselves. We painted three coats of " Simply White" on the entire triple bunkbed. I actually cannot remember if we went through two or three paint cans. I remember being so thankful when all the painting was done though!
The girls slept in sleeping bags for a bit until everything was complete.
The cost always seems to be more then what you plan on any home project. We planned on $500 but it came just under $800 after all was complete. (This was all purchased in January 2021, wood prices were going up around then but have since gone up even more.) The light fixtures, paint, painting supplies, plastic, wood, piping, paneling, everything, etc.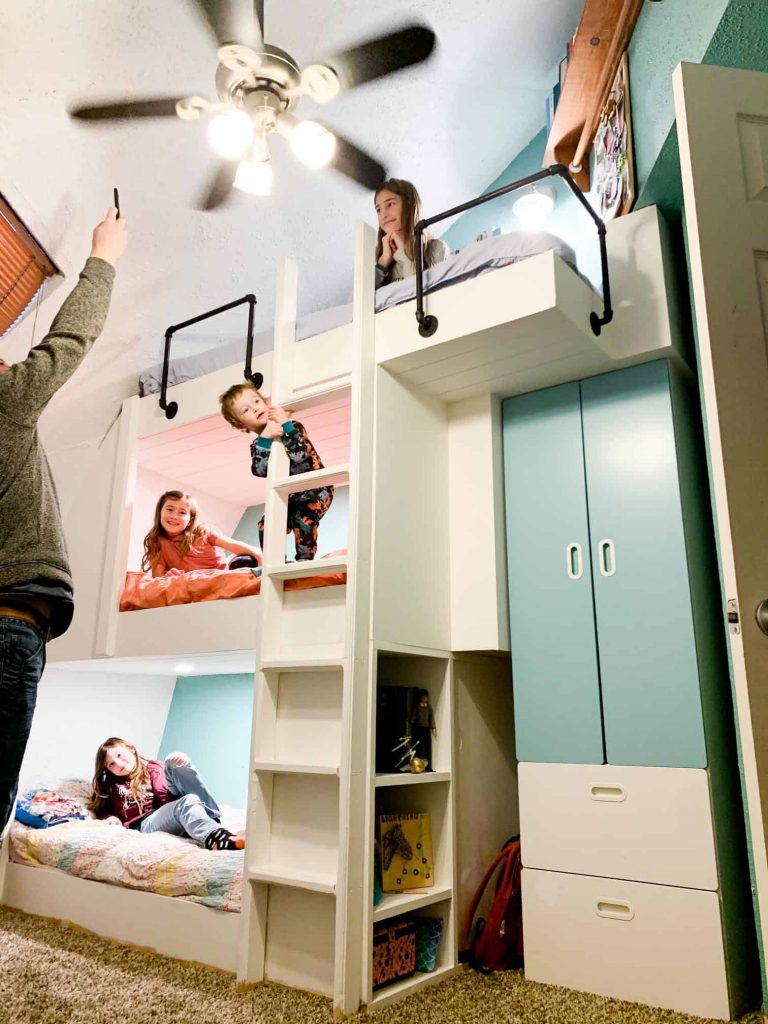 We would absolutely do this project again. It felt really productive and very purposeful to complete for our family. Our big girls all really appreciate this bed designed with them especially in mind.
If you enjoyed this post you may like these as well:
5 small ways to make your home feel inviting
From Scratch Creamy Maple and Brown Sugar Oatmeal