Spark your children's imaginations with this DIY children's mud kitchen that will provide hours of joy during any season.
Sometimes you have a kid that you know just really needs something special tuned to their own personality. Our third daughter needed a mud kitchen in her life!
She was the happiest little baby, my up with the sun girl, and the child with the rocks, moss, and bottle caps in every jacket or pocket she owns. I still double check her pockets specifically when doing her laundry.
There's usually at least one (or more) of these extra outdoorsy kids in every family. All of my children love to be outdoors but, Avari, could live outside and be totally content. Typically in a fancy dress, muck boots or barefoot and dirt all over her hands and clothing.
So for her 8th birthday we were inspired to create a mud kitchen with her in mind! She could make her family or friends all sorts of wonderful mud delicacies to her hearts content! Leaf meatballs, mud soup, onion grass chop suey, dandelion salad, and whatever else her imaginative mind could create.
THE DESIGN
I first started to look for ideas on Pinterest and pinned all the mud kitchens that had something we wanted in our design. I then took the one or two ideas off of each of those to create our unique custom mud kitchen that checked all the boxes I knew our little chef would love!
Ours would have a little door for a pretend oven or closed cupboard or fridge.
We had shelving on top for cups, bowls, or vases with hooks on the side to hang utensils.
We bought this silver bowl on amazon and cut it to fit for a sink (Don't skip on a sink, it's one of the best parts!)
4 pretend stove top burners for pots and pans.
And a large open shelving underneath opposite the oven door for pitchers and taller items to go.
A black painted chalk board for notes and recipes to be written on.
My mother n law took some old cabinet doors and painted them into chalk boards for our play room loft for Christmas that year. She had some chalk paint left so we were able to use that for our chalk board on the mud kitchen. Now, chalk paint is not considered a good exterior paint so if you use it, I recommend putting your mud kitchen under some type of cover like a porch, over hang, or carport. This will keep your kitchen in better shape over the years and your chalk board will be safer. Ours is under a small overhang from a window high above but it dosent get much more coverage then that. So we may have to replace the chalk board piece one day sooner then later.
WHAT MATERIALS WE USED AND HOW WE REPURPOSED WHAT WE HAD
When you are ready to start purchasing your materials, keep in mind what you may already have on hand! That can turn an expensive project to an "on the cheap" project. It also feels great to use up that can of paint or stain that you always say your going to use for another project. Let's try to actually do that! Below was our materials including some of which we didn't have to actually purchase.
ITEMS YOU MAY HAVE ALREADY:
Don't rule out anything you may have in the garage, shed, or maybe an attic or closet you keep some leftover supplies in. Those items may just be waiting to be used soon and it feels so good to use something up!
We had stain and paint already: I wanted it to be mostly stained to keep the wood look and then I really liked some of the kitchens on Pinterest that had a color with natural wood mix. I was leaning towards a blue shade. We had recently made a wooden table and benches for outdoor seating on our deck. We had some leftover stain and paint from that project and the paint color happened to be a blue shade. So that only helped seal the choice. It felt quite purposeful to use up those paint cans also. The idea of having some matching wood furniture around the house, but in different spaces sounded nice.
I already mentioned we had the chalk paint as well. We also had some extra 2×4's hanging out in the garage my husband had around from some prior construction jobs. That was great because somehow I miss counted and was short a few 2×4's. (Keep that extra wood, folks, never know when you may need it!) We even had the screws (we used exterior deck screws like exterior deck screws) because my husband has millions of them for our business.
We also had a ton of shims on hand from our tile and construction company which we broke up and used to make the 4 small burners for the stove section.
This post contains affiliate links, which means as an amazon associate I make a small commission at no extra cost to you. See my full disclosure here.
LIST OF MATERIALS PURCHASED:
We purchase most items at our local Home Depot. Below is what we used for ours but feel free to use wood on hand, on sale, or whatever you want to make work.
2×4's (we prepainted and prestained everything before assembling it together, we also got longer boards, and cut them into smaller pieces ourselves which will save you some dollars if you have a saw.)
plywood piece (we cut this to fit and painted the chalk paint on this for the back wall.
1x4x8 SELECT boards (we used these for all the decorative parts. The shelves, countertops, oven door, etc.)
A door pull for an oven or cabinet. I couldn't find the same one we picked so this pull is similar to ours.
shims or some thing else creative to use to make your burners for a stovetop
These screw hooks for hanging utensils and pans come in many different sizes for whatever you may need.
After all was purchased, built, and used. It cost us around $75 to build this little mud kitchen. This was around when wood prices were just starting to increase immensely. So maybe you have some random and interesting boards hanging around the garage or somewhere that you can purpose!
THE FUN PART: CREATIVE MUD KITCHEN TOYS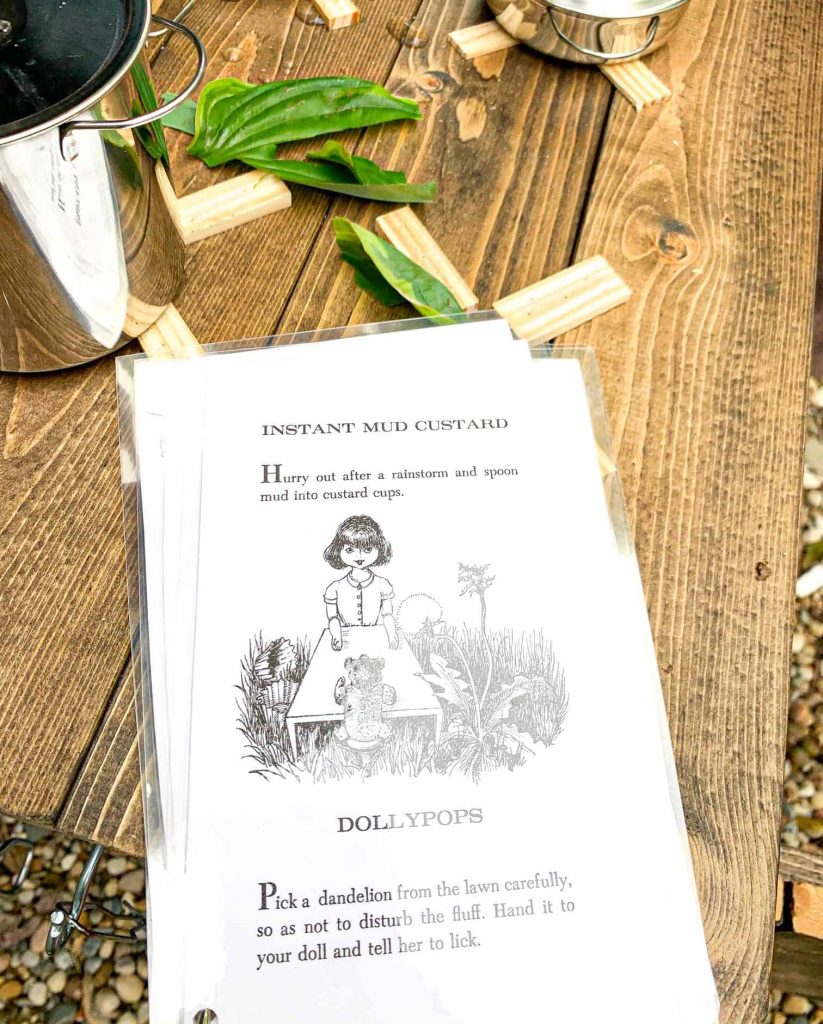 This is for sure the best part! Setting your little mud chef up with all their utensils and things to spark creative play! Below is a shopping list of all the items we snagged for our mud kitchen debut along with some things on our wish list for next birthdays or christmas' when we need to replace some items.
By all means you do not at all have to supply anything if you choose not to. They will find things around the yard to use as bowls or giant leaf plates and more. We just wanted to give her a little head start though. So check out our list of ideas below:
My absolute most favorite thing about the mud kitchen is the little recipe cards we laminated for her. We picked out a few of our favorites from the book " Mud Pies and other Recipes; A cookbook for dolls" by Marjorie Winslow. It's certainly a treasure of a book! It collides dolls and tea party dishes with mud and play. If you are building a mud kitchen for your daughter you should for sure consider adding this one to your shelves. Check out one of the laminated recipes for a sampling of this book below.
FINDING JOY IN MUD
This last part is for us mamas! Part of our family mission here at the round cottage is providing a place of joy in our home and inviting others to come join in it with us. It's a great way for your family and kids to serve others. Always trying to encourage myself and others to invite family or friends (old & new) into our most sacred place, our homes.
As much as its nice to just host friends sipping lemonade by the pool or sitting on the back patio with a sweet breeze and good conversation. I remind myself this home is not just for me. Sometimes our children are the ones hosting someone to come join in a day away to the cottage.
That may include them playing in their wonderful new mud kitchen getting filthy and dare we say it,"MUDDY"! Some moms go with the flow and handle it like a pro and it may not actually bother them, while others may struggle very much after realizing their young ones will actually be playing in muddy water and dirt. I wish I could say I was the first mom in that example. Having 6 children has broken down many of my thoughts and ways, but in a very raw and better way. I probably would not of built a mud kitchen for any of my children 5 years ago. Thinking about all that mud and all the constant clean up it may take would more of likely felt very overwhelming to me.
I'm so grateful to God for teaching me through my children. Our deep love for them and with God's help, can make us change in big ways, and can continue to stretch us even when it's not first nature to us. I'm an organizer and planner by design and the Lord has not taken those things from me, but has helped me to realize to use them when they actually serve best. And in this case, letting my daughter make and create mud pies for her family members, sometimes with a friend by her side, is important for her to do even if it's not what I would ideally desire.
We did put up some mud kitchen rules in place so that's she's not showering 4 times a day. There are ways to allow them this freedom along with compromises so that she's not running out to play mud kitchen when we are about to head to family pictures. Although, some of you cooler moms maybe would welcome that.
"I have told you these things so that my joy may be in you and that your joy may be complete." John 15:11 CSV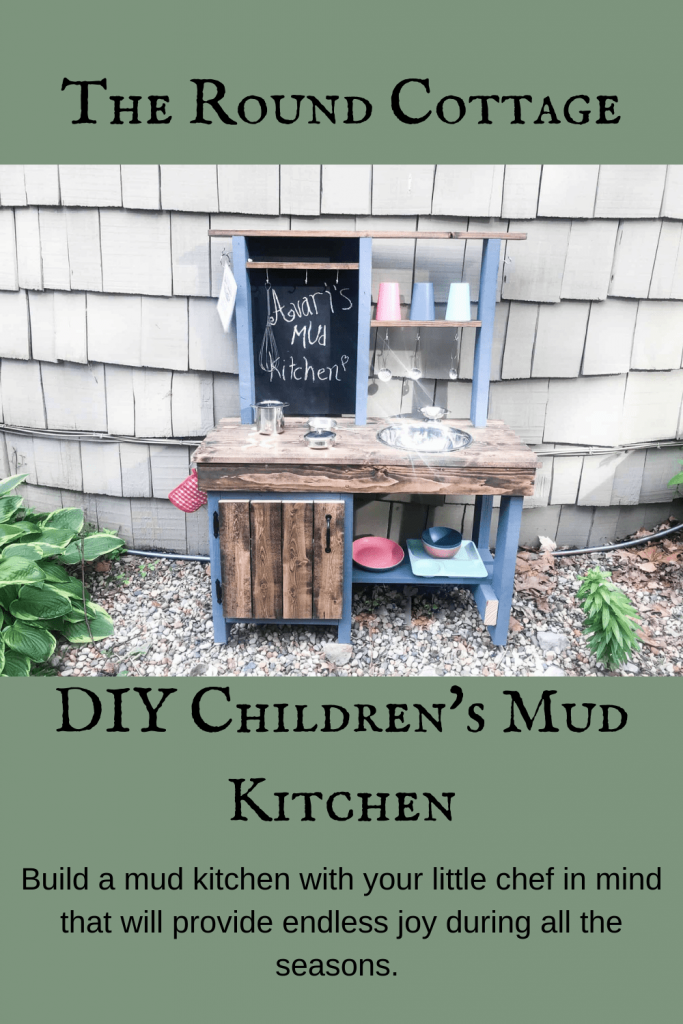 If you liked this, you may want to check out this other project Building a Triple Bunk Bed!
Have some great additions that would go along nicely with a kid's mud kitchen? Drop them below in the comments! I wanna hear!