DIY mini flower bouquets from your own garden are sure to brighten any day! They are such a simple handicraft that any age can enjoy and you probably have all the supplies in your own garden!
I love getting outside in all seasons. But the spring and summer easily call us outside. The warm sunshine, the smell of fresh grass, flowers blooming and even the sounds of spring & summer are enticing! Our own garden has quite a bit of beautiful arrays of flowers and bushes. It's the real highlight of how I like to spend my days! So when I saw an instagram trend of people making their own mini flower bouquets, I was immediately excited to try our hand at some of our own. So here is our version of mini flower bouquets!
Gather Your Supplies
All you need is some snipped ends off of your favorite variety of plants in your garden. Remember, your making tiny ones so you need to think "MINI, "SMALL" & "MICRO". Once you start trimming some pieces you will gather up a good pile fairly quickly. We had some mini zinnias of assorted colors, pink and purple phlox, and we have tons of Coreopsis verticillata 'Zagreb' (also known as Tickseed.) It spreads like crazy so we have a lot of it and typically have to cut some back every year. Its tiny little yellow flowers are perfect for these and they are extremely easy to grow (and spread in places you just want to fill with something simple.)
Some of the greenery we used came from bushes we have. We have multiples of each of these so there was no lack of amounts we could take. We had some Boxwood (the darker green round leaves, my favorite,"Winter Gem") Cypress, & some of the kids snuck some of my hydrangea leaves. Which, hydrangeas would be a great flower to use as well.
Once you have a collection of all the pretty things you foraged its time to start playing with them and placing them together. This is where you can get creative to your hearts content and just have fun. Pick color combos that soothe you or pick some bright and fun varieties to place together.
You will need some twine, ribbon, or binding of some sort after you have your bundle prepared how you like. I had gold and silver rope string so that's what we used on this day. It might be easier to have yourself a helper hold the flowers while one wraps the string around to hold your little bouquet in place. And I mean, really, that's it!
You could wrap it in some sturdy brown wrap paper or stick it in a small vase with water. I have a tiny little glass vase I keep available because my little boy never fails to bring me dandelions and violets in the summer every time he goes outside. It is the sweetest thing ever and so I keep a tiny vase available solely for those moments. It worked perfectly to add one of these little bouquets to.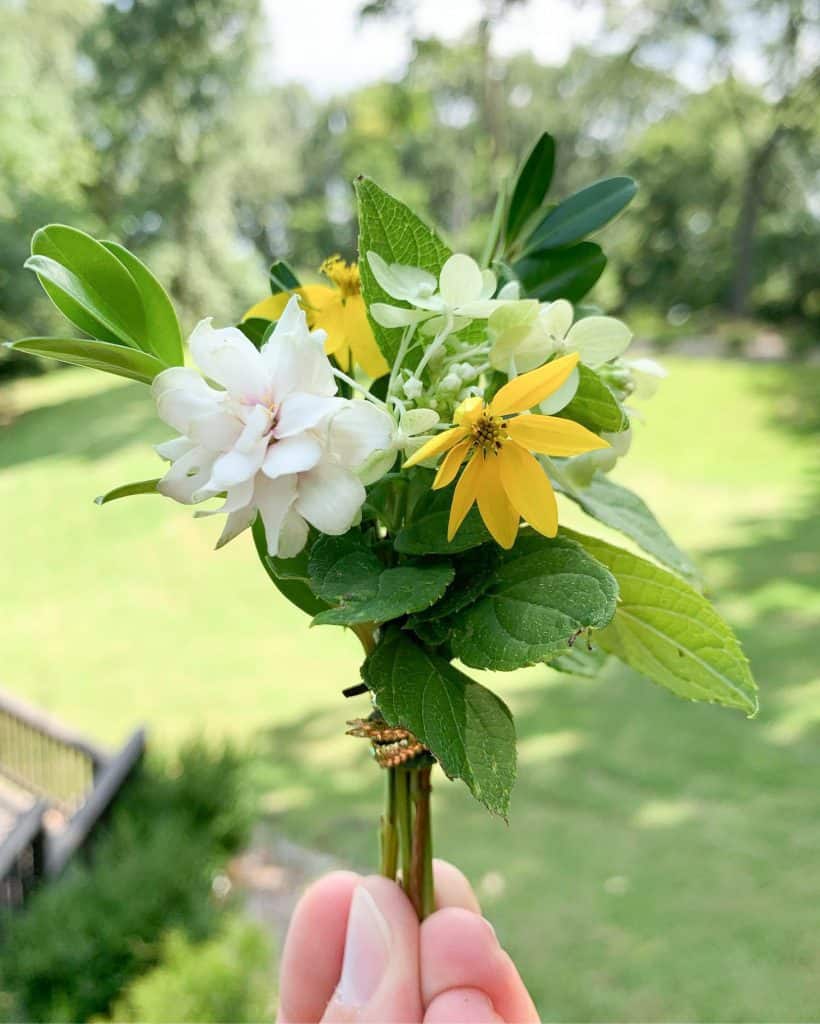 Mini bouquets are not just for the spring & summer.It's easy to only create bouquets with pastel and fresh bright flowers in the spring and summer and feel like its over until the next Spring when the Fall comes. But don't discount the Fall and Winter either.
Just as the leaves are brightening, red berried plants are in full bloom in Fall, or wreaths of greenery and twigs that brighten the Winter. Those same things can be made smaller for a fun activity in the colder months. I would use a fire bush with some brown twigs or harvested wheat, small red, orange, or blue juniper berries.
Keep in mind what your picking or using to beware of poisonous berries if your doing this project with children. In the Winter I would use different and interesting twigs I may find, pieces off some cedar, pine, or fir trees or some birch twigs if you have some in your area.
Inspiration & What to do with these now…
If you want to get more visual ideas and happen to have an instagram or Pinterest account, hop on there and look up #miniflowerbouquets or search Pinterest and you will be amazed and pulled into all the tiny lovelies! They are so beautiful and dainty. Again, the sole inspiration for ours above! 

If your also wondering what you would do with these tiny bouquets and what the point is, well, I for one just love flowers! So anytime I make a project that involves my flowers brings me joy and is a true handicraft that does not feel unrewarding. 
     *You can easily just place these in your window or any room in your home in mini baskets, vases, or a pretty pitcher.
     * These are an easy gift by themselves for anyone whom also enjoys fresh flowers or along with a larger gift. Wrap it around the outside of a beautiful wrapped present. It would complete any gift! 
    * Place them as a table setting, or at the kids table (we have a miniature picnic table that my girls would adore if these adorned it.)
    * I've seen many make some to match their baby or wedding shower themes. They make wonderful favors or placed in the setting for assigned seating at your event. Mother's Day, book clubs, celebrations, or a special event with your friends. Any of these things would be acceptable to present your mini bouquets!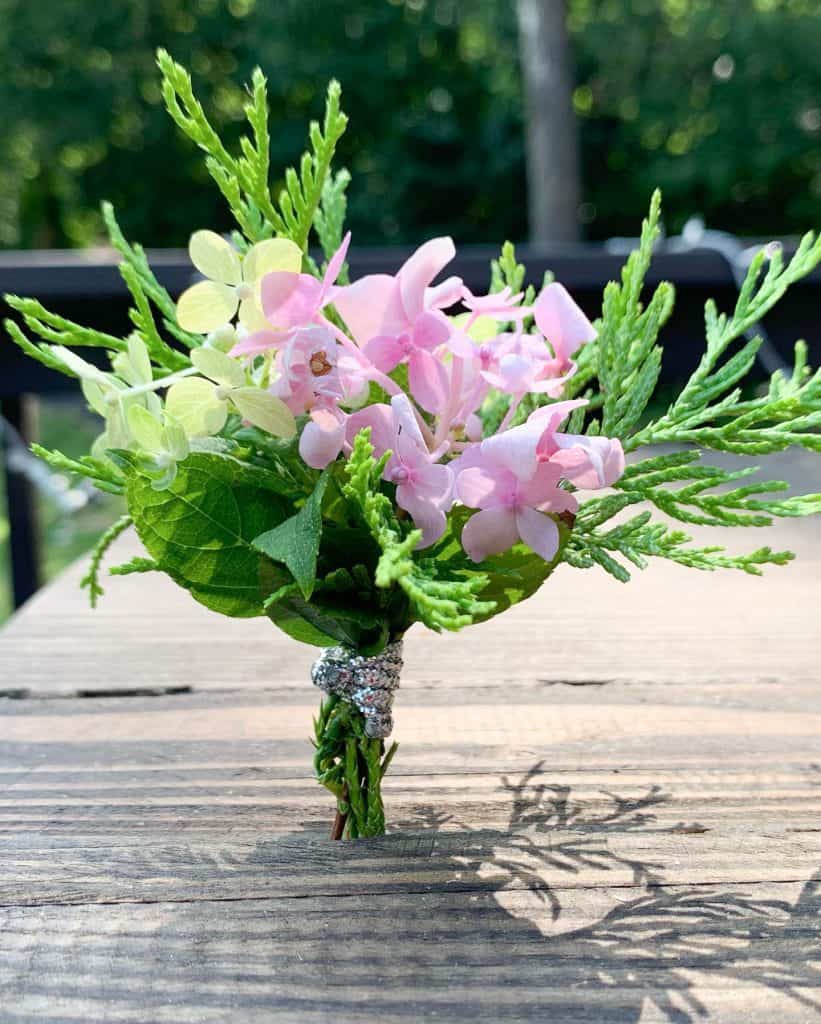 Print off an easy How To Guide for making your own Mini Flower Bouquets below.
How To Make Mini Flower Bouquets
How to make mini sized Flower Bouquets from flowers and bushes from your own yard!
Equipment
pruning shears or very strong scissors

twine, string, ribbon, fabric (something for binding)

foraged greenery pieces

foraged tiny or micro flowers
Notes
Gather your supplies list first. Use some gardening shears or grab a sharp pair of scissors if you don't have those. 
Lay out a buffet of twine, ribbon, string, etc. (Anything that will make some nice binding with the look your going for.)
Grab your choice of shears and start clipping some of your favorites. get some greenery from bushes, maybe some tips from tall grasses, dried berries from some bushes, etc.
Next start finding some tiny and micro flowers that you find joy from. Tiny whites, blues, pinks, yellows, and more. so many choices. Even violets along with other wild flowers are great choices.
If you have all your foraging finds gathered. Start piecing things together. This is the fun part! 
Once you have something mixed together you love, this is a good moment to have a helper. One can hold the bouquet in place while the other places the binding around it or vice versa. Be careful not to tie the binding to tight where they will break off or not receive water or to loose where they will fall apart. Find a good medium.
Lastly, you can now give these as gifts, use as a party favor, or place in your tiny mommy vase to enjoy!