Make these easy natural fire starters to help kickstart your outdoor fire. They are so pretty and smell divine (depending on what spices or greenery you choose) for burning.
This past fall we put in a new wood burner stove in our home which inspired us to try some homemade natural fire starters. I scoured many different Pinterest ideas and google searches to find a perfect combination our family and friends would like that both looked pretty but would also leave a desiring scent.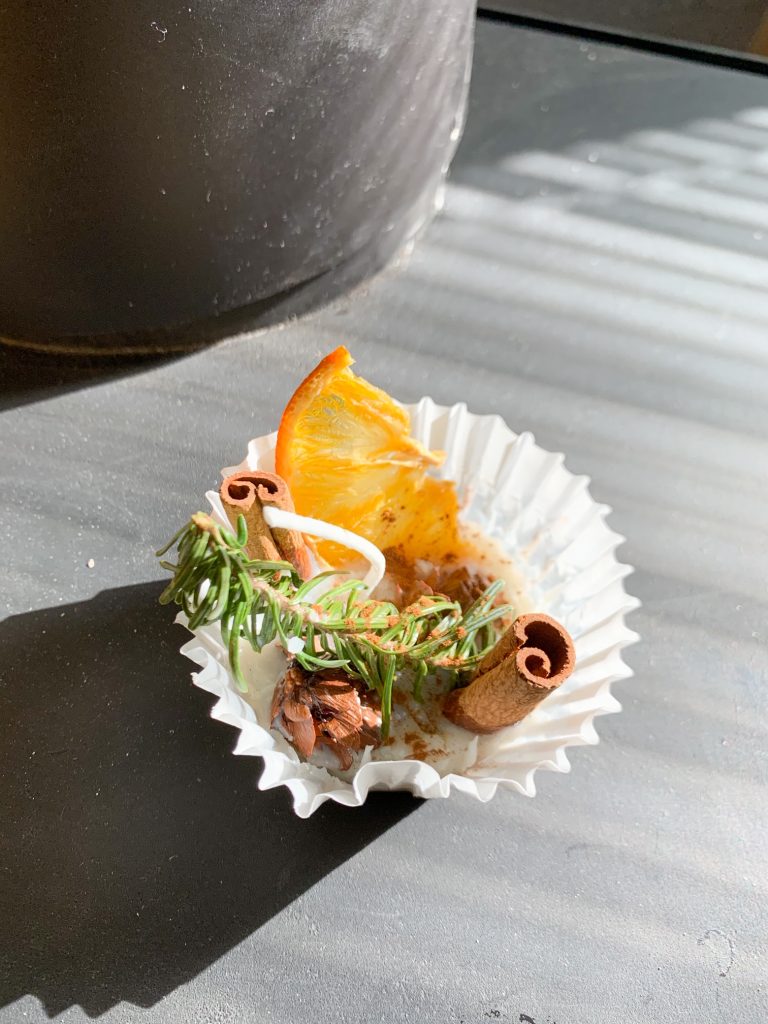 Since Christmas was coming soon we decided to make this a family handicraft and make them together to give as gifts. We usually do something different every year and this seemed fun for this year!
I first grabbed a 5 pound bulk sized box of natural soy candle wax from amazon here. It was nice because it also includes around 100 pre-waxed candle wicks and we used those in our starters also. We ended up having almost half our wax left and made about 35 fire starters. The leftover wax will not go to waste though, we will be making more starters when we run low or maybe trying out some home made candles soon.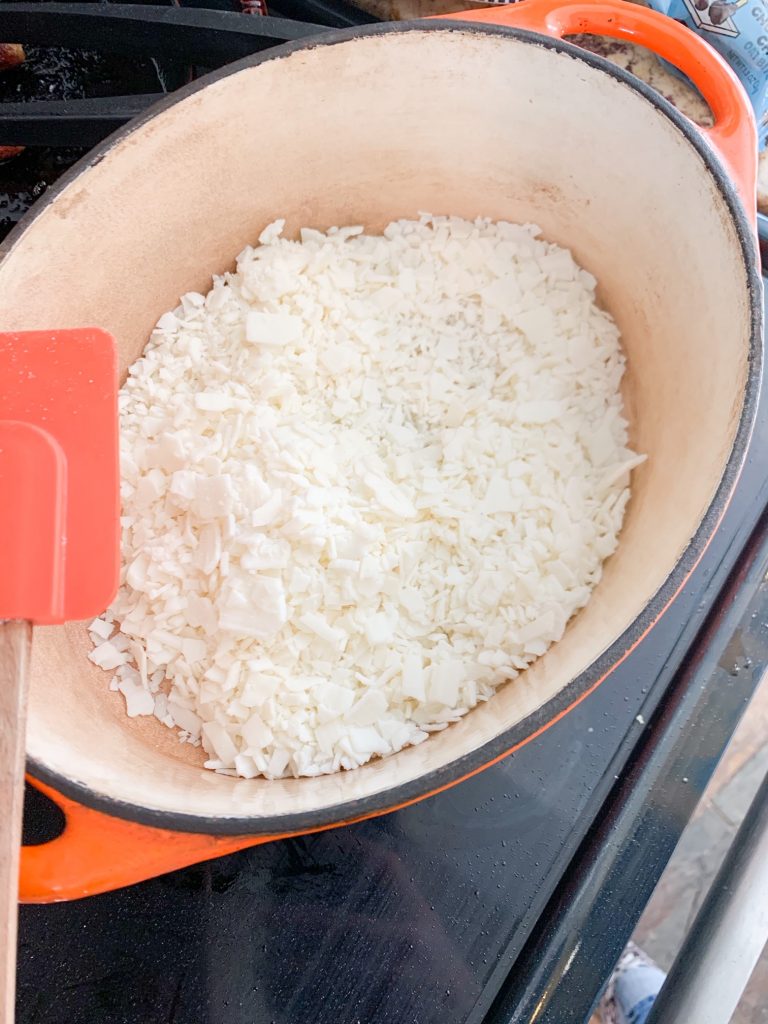 Jump to Recipe
Fire Starter Combinations? There are so many ways you could create these.
Orange slices and greenery have been big this last Christmas or two. Actually, oranges go decades back in having their own part in Christmas celebrations. They certainly give a very warm welcoming to any home display. So I knew I wanted those incorporated. I also love cloves combined with oranges. I remember christmas' past taking an orange and arranging cloves pressed into the orange peel and making very simple and lovely scented ornaments. Cinnamon was the next scent I had imagined.
What are some scents that immediately bring memories of christmas pasts for you?
So oranges, cloves, & cinnamon were my first fire starter scents. But then remembering, this is so you can start an actual fire so you need these items to be truly flammable. If they don't catch a spark easily then they won't do their job correctly.
Once I had some scents in mind I then started thinking what greenery and flammable items would pair well with those. I landed on the best flammable foraged favorites: pine cones and some pine tree sprigs. I used some snipped pieces off our Fir Douglas christmas tree when we trimmed it before bringing it inside. Otherwise I probably would have just grabbed some pine needles off of one of our trees outside.
So hopefully, you as well, have some coniferous trees in your yard or nearby that you like and burns easily, maybe has a nice scent, and would be a main ingredient for your fire starter.I just grabbed some mini pine cones from a craft store but you could easily forage these as well depending on where you live.
Need some more natural flammable supplies ideas;
Shredded paper or wood shavings would especially look nice. Use up some of that shredded paper from your office shredder or wood shavings are fun to carve or fairly simple to find or peel off larger pieces of wood. If you live North, cedar and spruce trees are great to peel some bark or off a fallen one on a trail.
Pine cones large or small (also one of the reasons they should be burned in an outdoor fire, pine cones really turn up the heat.) We use them in our wood stove if the pine cones are really small but otherwise always test your fire starter outdoors before trying it in your wood stove. Especially medium and large pine cones, those light up very fast and can put off a lot of smoke as well.
Dried greenery like fir tree sprigs or pine needles. These also burn really well and will give that scent of the outdoors and pine forests to your already pre picked scents above. I probably would always include these over the pine cones or wood shavings any day. The dark green colors with almost anything looks great!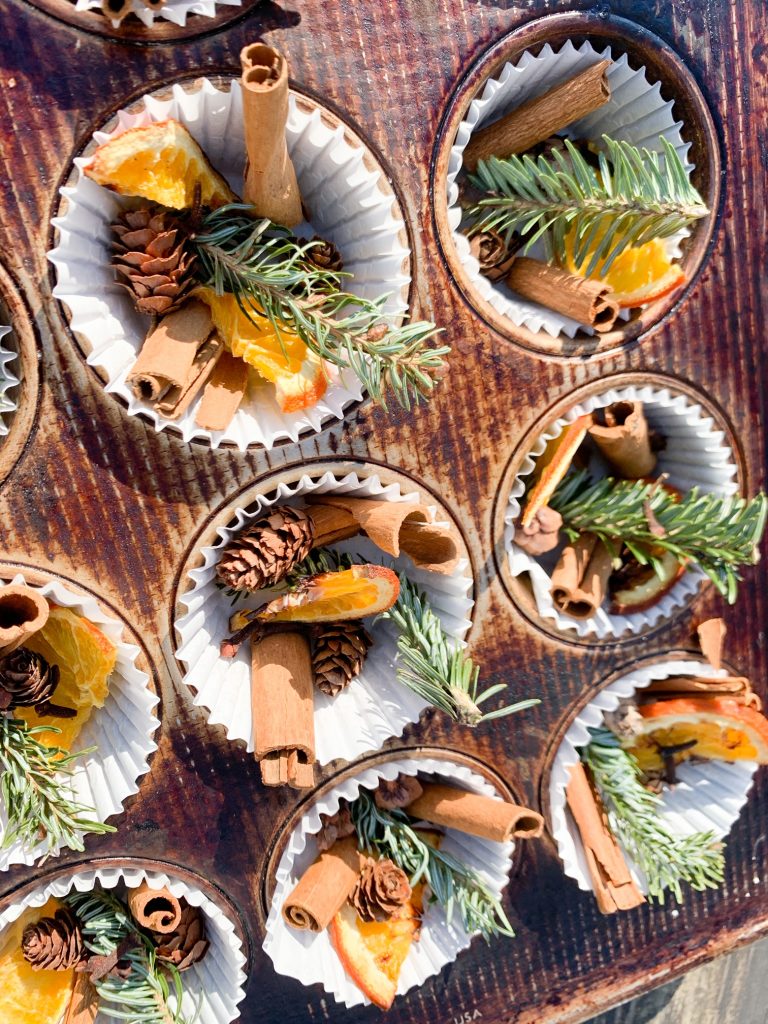 It also helps to place your wax in easily flammable bases. You could use egg cartons, I used plain paper cupcake liners, or you could place them in paper cups/cones. you could wrap them in brown paper bags or brown wrapping paper.
More Scent ideas
Essential oils! So many options with these! Citrus, Relaxation or medicinal, Seasonal scents, camping/nature geared scents, Floral, etc. If you have a large or small collection of oils there are so many ways you could use them. I would just pick 1-3 oils depending on what your starters theme is and go with that. Just off the top of my head I would do a lemon oil, with dried lemons (maybe some dried limes and oranges also if I was focusing on citrus verses just lemons.), pine cones, light colored paper pavings, and sage leaves or Eucalyptus leaves. So just pick a theme and go with it! Remember to throw some flammable items in there but you get the idea!
Some more fruit which would go nice is anything dried, really, but some I had thought about was adding some cranberries to the ones I made. Also Kumquats would be cute being tiny oranges, blood oranges or grapefruit would add really pretty color.
Take a look at your spices and see what could go nicely with pine needles or pine cones. Help make a more woodsy scent by adding pepper or something smokey.
Another favorite that I'm sure would be a hit is doing a coffee version. You could put straight up coffee beans with some wood or paper shavings with some vanilla in there. I may actually need to try that one next time!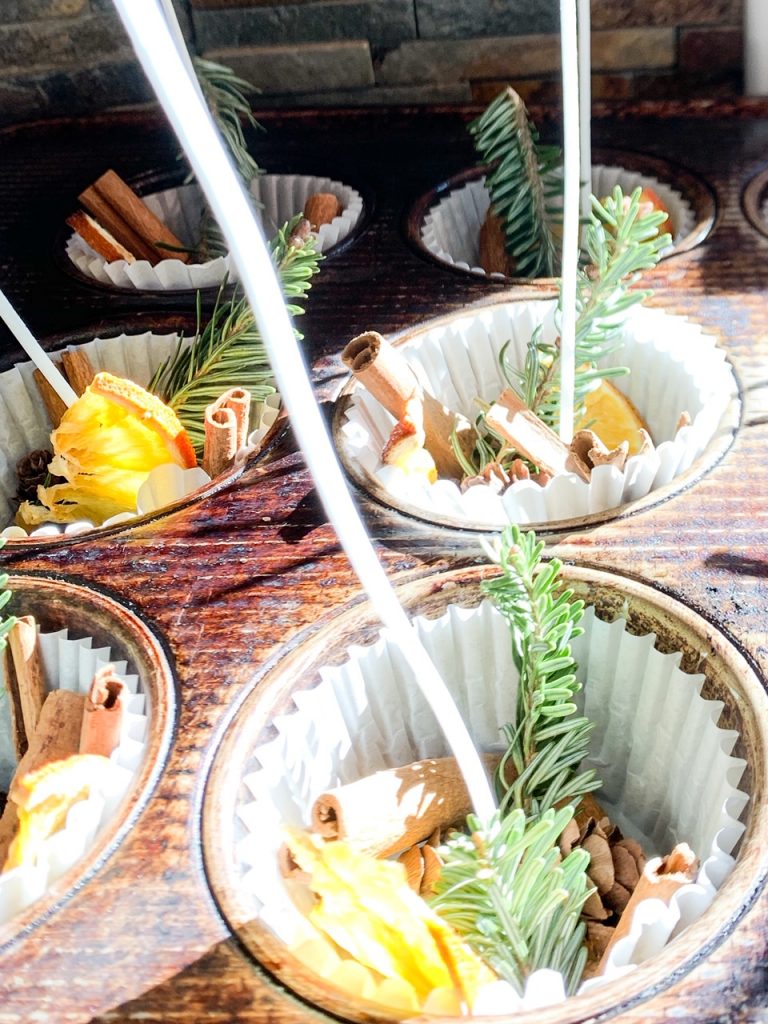 Storing your fire starters:
You can store them in a air tight large canning jar which I have mine in. You could also just put them in an airtight container and keep them in a cupboard or a large plastic baggy if you don't care about fancy.
They would look really cute in a basket near the door going out to your fire pit or near your wood burner or fireplace just for decor.
Note: You could also swap out your soy wax for beeswax. I would prefer to try this next time but since I was trying these for the first time we grabbed soy wax for trial and error.
If you enjoy crafting with nature and things that make great gifts you may like these also:
Print off an Easy Guide below to help get you crafting your own fire starters…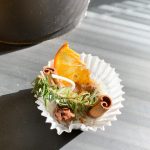 Print
How To Make Your Own Fire Starters
Make your outdoor fire or wood burner start with a breeze using this easy how to recipe for some natural fire starters. So many interesting combinations you could use that can even make your toasty fire smell even more fragrant.
Equipment
Muffin Tin

Old sauce pan to melt soy wax in

knife to slice

scissors to forage

small liquid measuring cup

measuring cup
Materials
1

2-5 lbs.

Soy Candle Wax

I bought the 5 lbs and have a little under half left so the 2 lb. may be perfect for what your looking to make. I made around 35 starters for what I used.

1

24

paper muffin liners

cinnamon sticks

cloves

mini pine cones

dried orange slices

Slice your oranges very thin and place on a sheet pan along with parchment paper. Put your oven on low heat so they don't burn (about 175 or 200 degrees) and bake for a couple hours. I just check on them until they seem fully dried like a stick when you pull them out, not gooey.

foraged fir tree sprigs

about 1-3 inch pieces

ground cinnamon or nutmeg
Instructions
Purchase your wax and gather all your materials needed and lay them out so they are easy to grab when ready.

I didn't want to waste my wax so I only melted about 2 C. at a time. Just place your wax melts right into a sauce pan of choice and start heating on medium to low. Once its fully melted turn on low so it does not start to reharden on you while your doing the next step.

While the wax is melting go ahead and put your muffin liners in the pan, and start placing your fire starter combinations of your choice into the individual muffin spots. I did one cinnamon stick Brocken in half , 1-2 dried oranges, 2-4 mini pine cones, 1-2 fir springs, & 2-3 cloves. Be certain that they are arranged and sticking up high enough so when you pour your wax in, the items will be sticking up higher then the wax itself so you can see all the pretty ingredients.

After all my liners are filled and looking ready for their wax. I very carefully put a candle wick in the middle of each. The items helped hold it in place keeping the silver end on the bottom of the liner with the candle wick sticking straight up from the middle. Some of mine stayed fallen while the wax was melting and I just fixed them as I poured the wax when ready. It didn't effect the fire starter process at all. If you don't have wicks or prefer not to use them, lighting the paper or a pine cone will get your fire starter lit up just as well!

Next I used a little mini liquid measuring cup and filled about 2 TBS. of my now, liquid wax, into each paper muffin liner very carefully (be careful with your warm wax, although my kids loved this part.). I also used this time to fix my candle wicks to stand a little straighter or if something needed pulled up a little to be seen in the wax better.

Now you just wait for the wax to dry together with all the ingredients in your muffin liners!

Lastly, you could do this right after you put the liquid wax in your liners, but I did it when mine where just about solid. I sprinkled a small pinch of ground cinnamon on each one. You could use nutmeg as well. I like extra scents and didn't want the cloves and pine to be to strong so I put some extra cinnamon in mine. I f you like the more rustic smell you may choose to just let it be.

They should easily pop out of the pan when dry and don't forget to cut the tips of your candle wicks down to an inch or so above the wax if you chose to put some in your fire starters.

They are now ready for use. We tested ours later that day in an outdoor fire and it burned for almost 20-25 minutes.
Notes
**RECOMMENDED FOR OUTDOOR FIRES ONLY**
**IF YOU CHOOSE TO PLACE ONE IN YOUR WOOD BURNER STOVE , THE PINE CONES CAN PUT OFF A LOT OF SMOKE SO BE PREPARED IF YOU TRY IT AND WE HAVE NOT HAD AN ISSUE WITH THE WAX CAUSING A PROBLEM OR BURNING COMPLETELY OUT OF THE STOVE**
**NOT RECCOMMENDED FOR INDOOR WOOD BURNING FIRE PLACES**
**DO NOT USE IN A GAS FIREPLACE AT ALL**
I hope this gave you some inspiration to make your fire pit experiences even more relaxing and add some complimenting scents to your cozy fires! What will you be putting in your fire starter? Post a comment below and share yours with me!
Pin and save this to come back to later!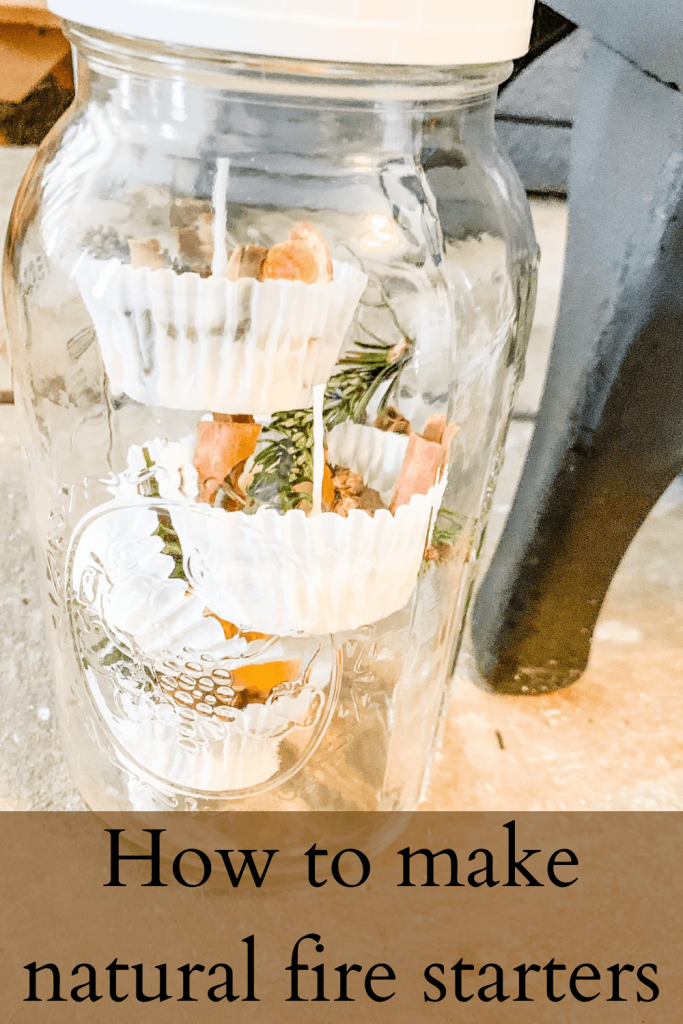 *This post contains affiliate links, which means as an amazon associate I make a small commission at no extra cost to you. See my full disclosure here.