Repurpose a mid-1800's knockdown for that perfect large storage piece! Here's how we found ours for FREE and how we are using it now!
Most everything I know I learn from my sister-n-laws. I joke with them we need to do a sisters podcast together so others, like me, can glean all the amazing things they know and could share. I always feel more refreshed in my mothering and come away feeling more knowledgeable no matter what we discuss. We just have a lot of fun together, too.
Some of my sister n laws live farther up North, but I have one nearby and our families do a lot together. She fills her home with amazing antiques, decor, and so many good books. She has many great collections of classic colored plates (green, blue, browns, and the red for all the occasions.) Typically when I'm over there I'm looking at anything new she may have added or that I myself want to be on the hunt for. It's one of my favorite places to spy out new pieces to add to my "treasures to find list."
One of those things for a while has been a knockdown. She actually has two beautiful knockdowns that she got for some pretty great deals. They are beautiful and large and can hold so many things in them.
knockdown: the act or the instance of knocking down (The Free Dictionary)
This is my take on a knockdown and probably my best Example of one:
If you get one that dates around or near the mid-1800s. The name comes from being able to take it apart (knock-down.) When a family in the pioneer days was going across the Oregan trail or moving to another area to build a new cabin and life, they had to fit everything they owned or wanted to take in their covered Wagon. Most families owned at least one knockdown wardrobe because they hold a lot and can easily come apart. The back, the doors, and the sides of the wardrobe would easily slide on the floor of the wagon and not take much space at all for how large these can be. When they eventually made it to their destination, the knockdown would just be pieced back together. They usually used their knockdowns for a pantry or linen/clothing closet.
I like a lot of the furniture we buy to close, I know open shelving has been popular for years but I keep that to a minimum because it does not function well for our family (or my organizational skills.)
Put the art and crafting supplies in and close. Place the school mess and books in, then I can close it. Put the towels and extra sheets in something: That I can close. I love things with lids also. Like baskets, cute containers or boxes. It just helps keep the clutter down. I can close that mess of colors and leave behind a beautiful exposed walnut or pine wood to view. Or colors I actually enjoy seeing, I can display those on fabric boxes or curtains in blues, greens, or grays or something I find extra pleasing to my eyes. A knockdown is just one of my dream pieces because of all that exposed wood and all that large amount of storage.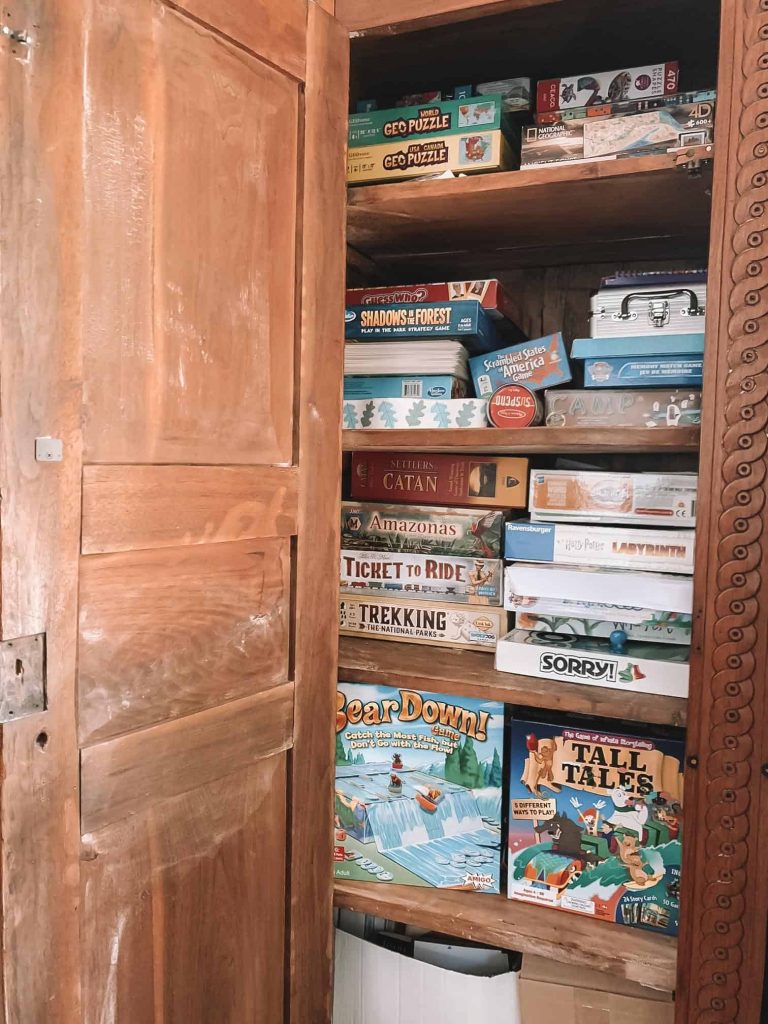 An old knockdown has been on my "treasure to find list" for awhile. I've specifically been searching on craigslist and marketplace on Facebook. When I'm really trying to find something, then I'm searching it every day or every other day. Typing it in while I'm checking messages or emails at least once, maybe a couple times a day. Waiting for the one! A good deal is finding a large beautiful knockdown for $300 or less. I see some really beautiful and ornate ones for $600+ in pristine condition even though they are probably 120+ years old. It also depends on what style, wood, and condition. Some can be pretty beaten up. But mostly, you can tell if they look like they could hold up and be useful for what you need.
I wanted mine to be a little primitive (they usually always are on the inside anyway) and a dark color (walnut would be great but that can be challenging to get or you may have to put in a bid fight for it with others.) We needed something for our games and puzzles to go in so they no longer would be hanging out in an open wire basket in the library anymore. We also have some extra blankets we've been needing to store for when not in use. A knockdown provides plenty of space to hold a lot of items so they are quite multi purposeful.
Finding the piece
The day finally came that someone across the river had one for FREE. What?!? IT was a bit unbelievable. She posted a mock photo of a knockdown and what she 'thought' it could look like all together. Her's was in pieces and she said she had them all. So we basically would be piecing it together like a puzzle and hoping all the pieces would actually be there and that it would be something we could work with. We were first to message and quickly ran and grabbed it that evening. We got it home and it was in some rough condition on one of the doors but all in all seemed quite nice and decent quality.
Follow the photos below for a walkthrough of us piecing it together: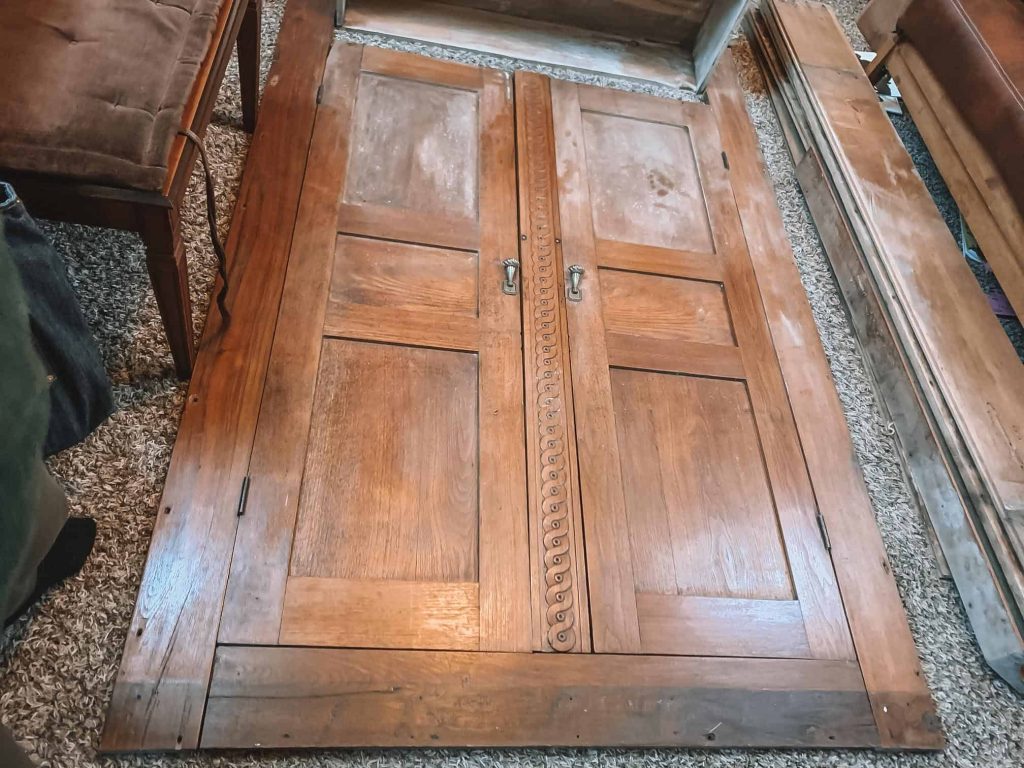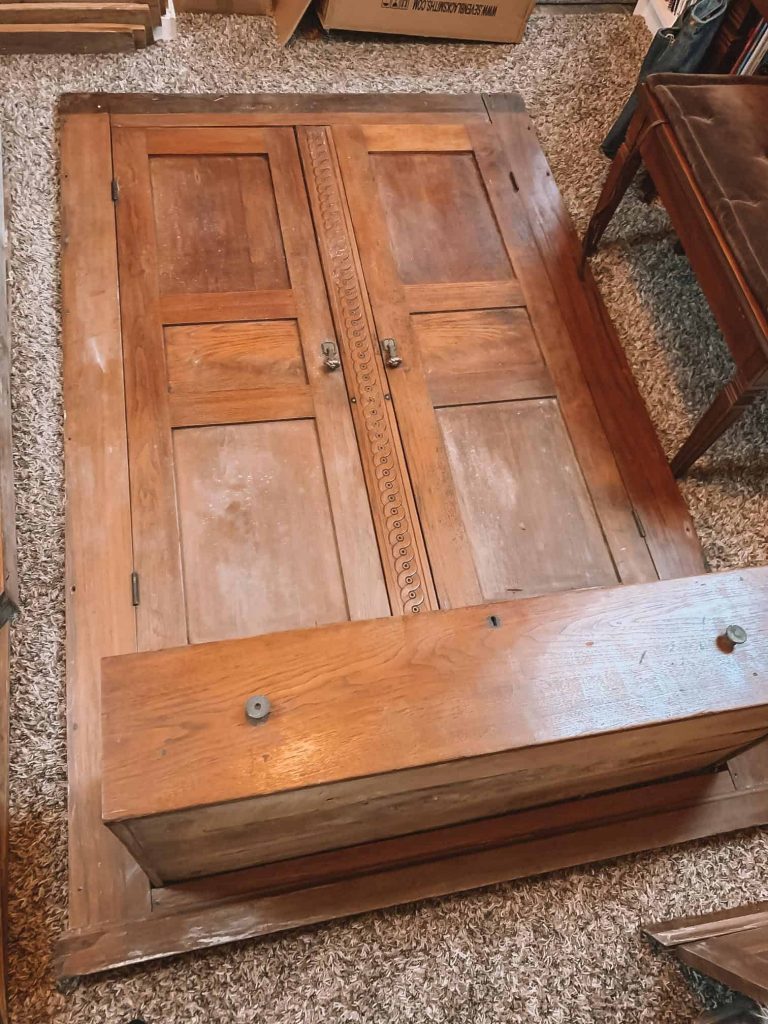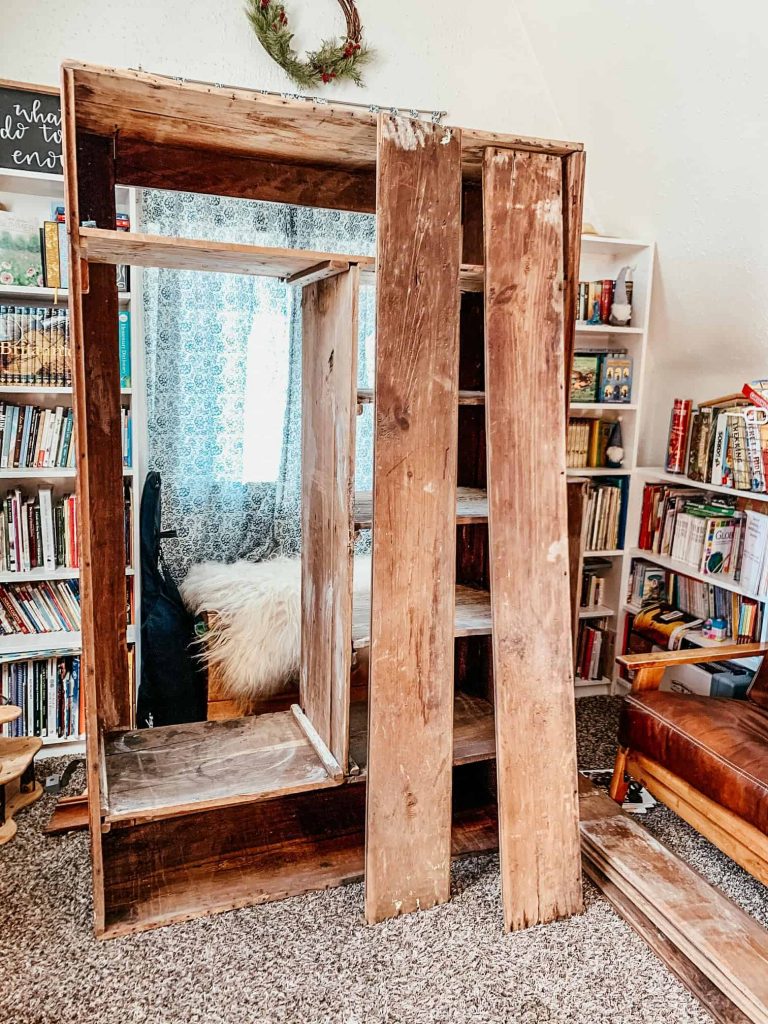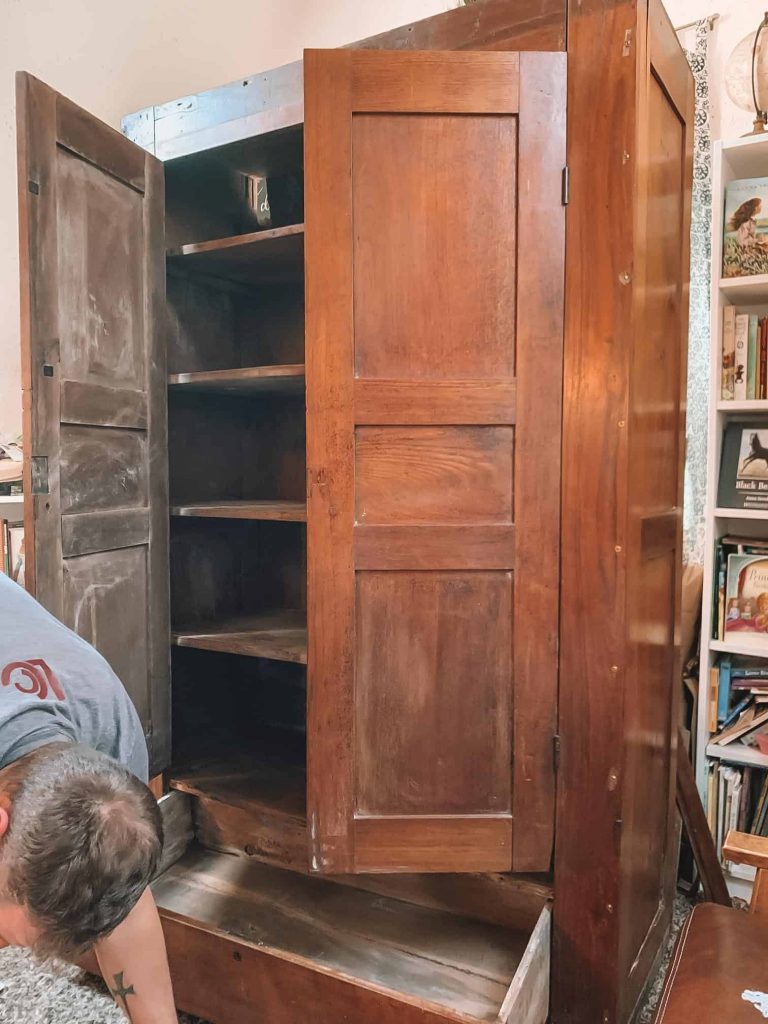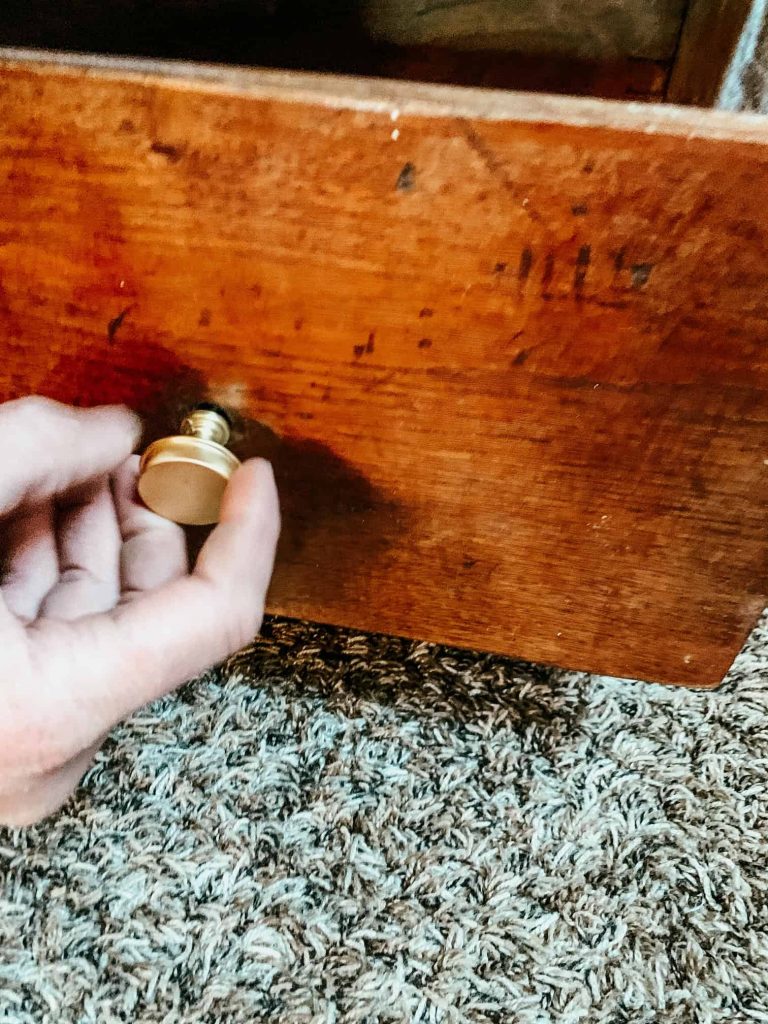 Iron nails for keeping your piece looking it's age:
We got it all put together, we did redo the nails but would like to eventually replace the ones we used with the iron square ones like these.
They typically had those old iron square nails placed to hold it together which can also help date it. Beware some though, because you can find them again, new, to make a newer piece of furniture look older. That comes in handy for refurbishing something actually old but you don't want to be deceived either. We just got two new small gold knobs for the drawer.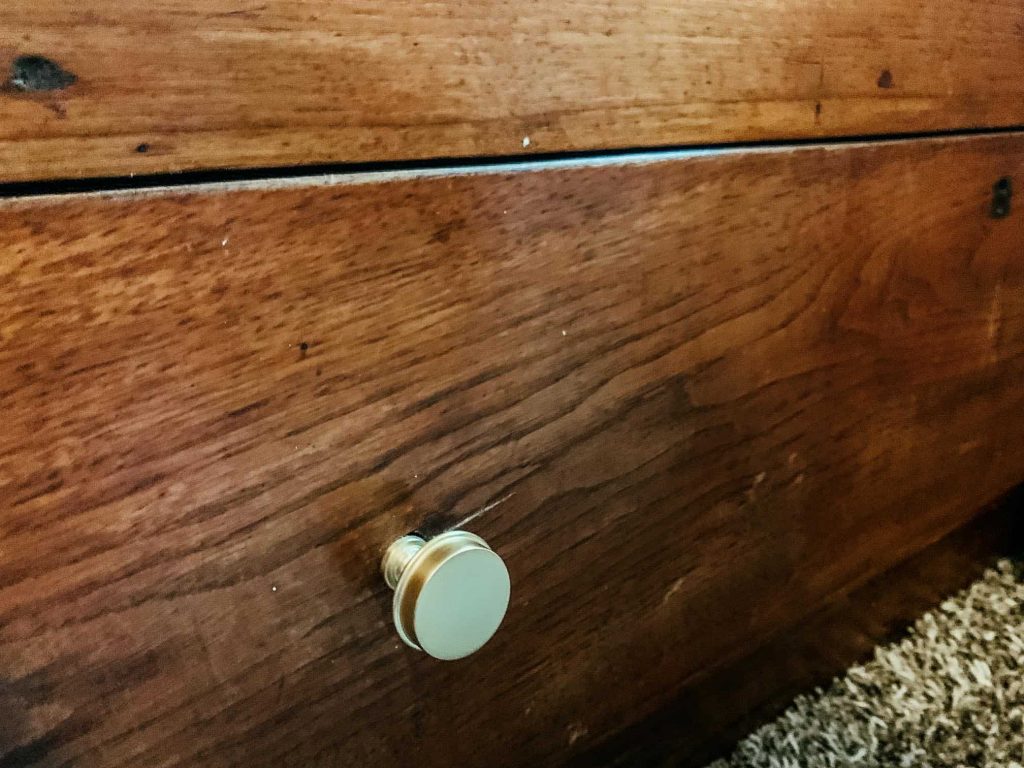 How to clean and shine your wood piece up: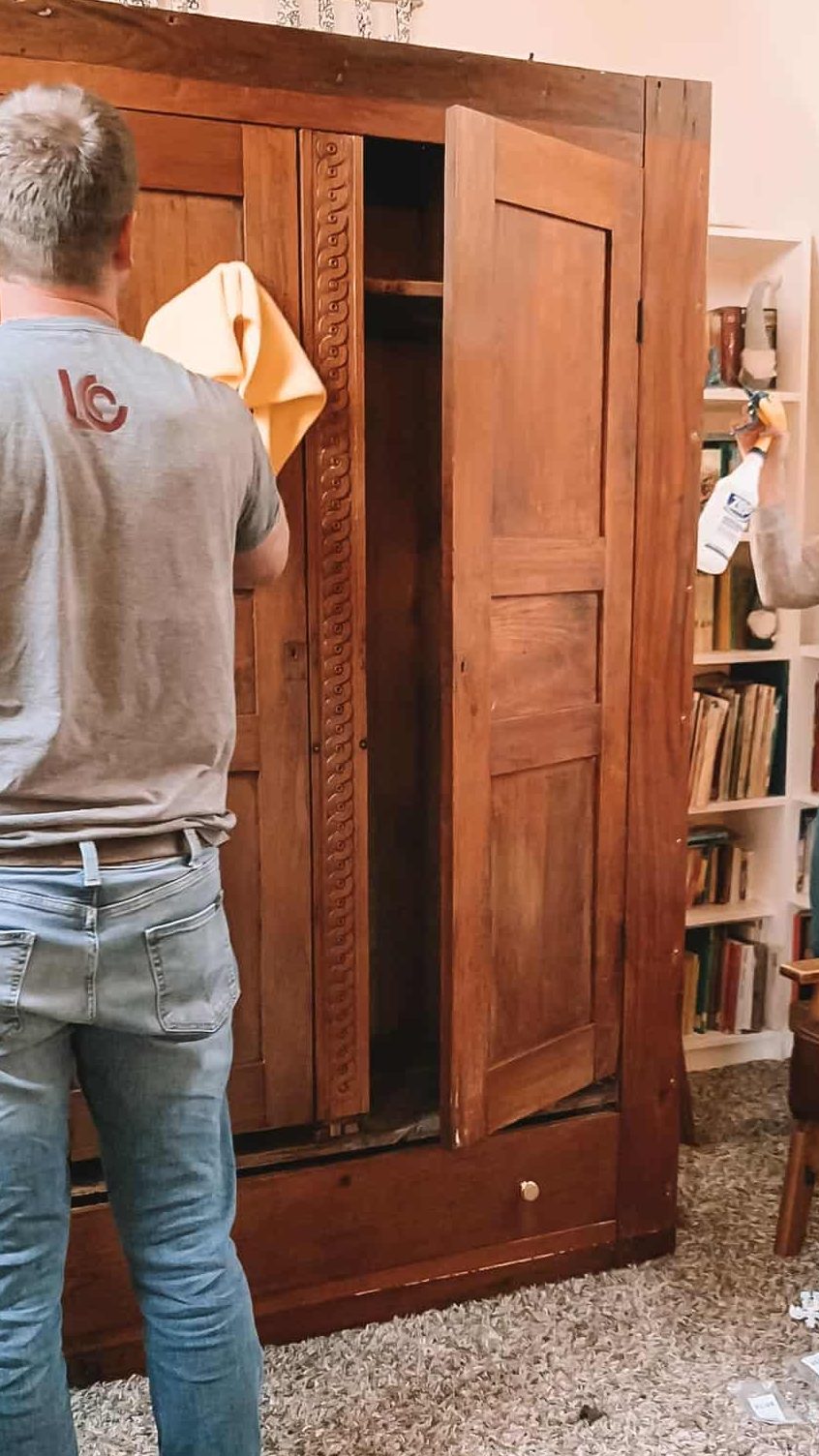 My sister n law recommended this Murphy wood cleaner. It cleans and restores old wood. You can use it for many things or even kitchen cabinets. It's highly concentrated so a bottle will take you far. It got our knockdown all shiny and it started coming alive. We could really start seeing its true color and guessing on what kind of wood it may be. I really loved it after the new knobs were finally in place.
Before/After with the cleaner: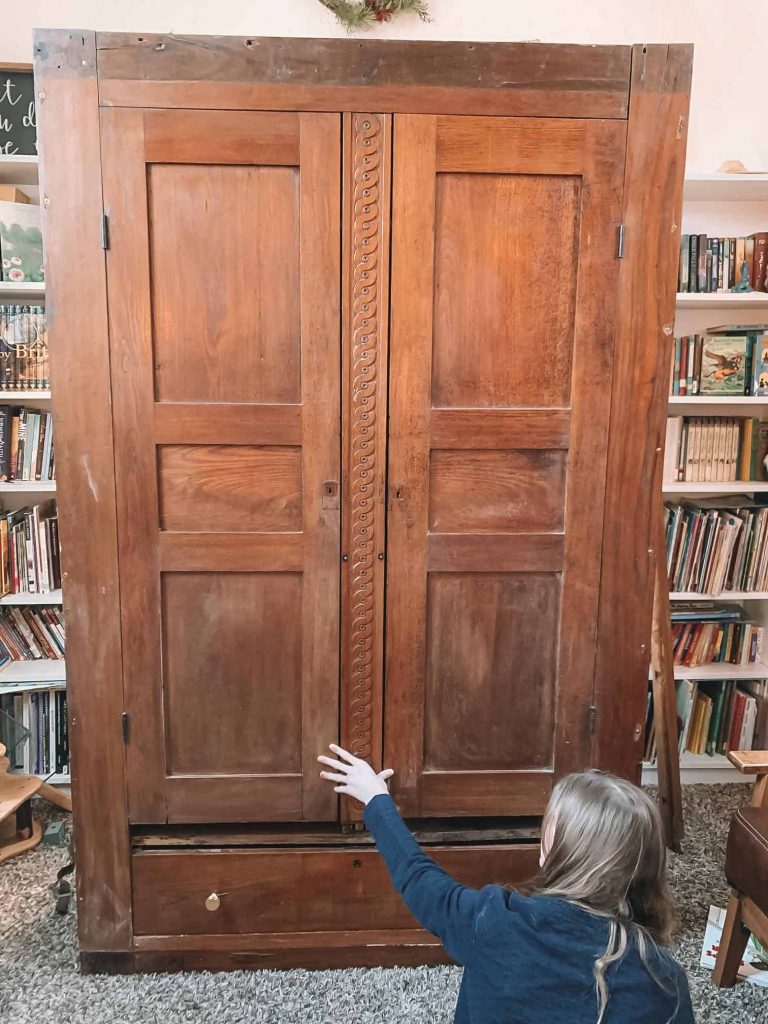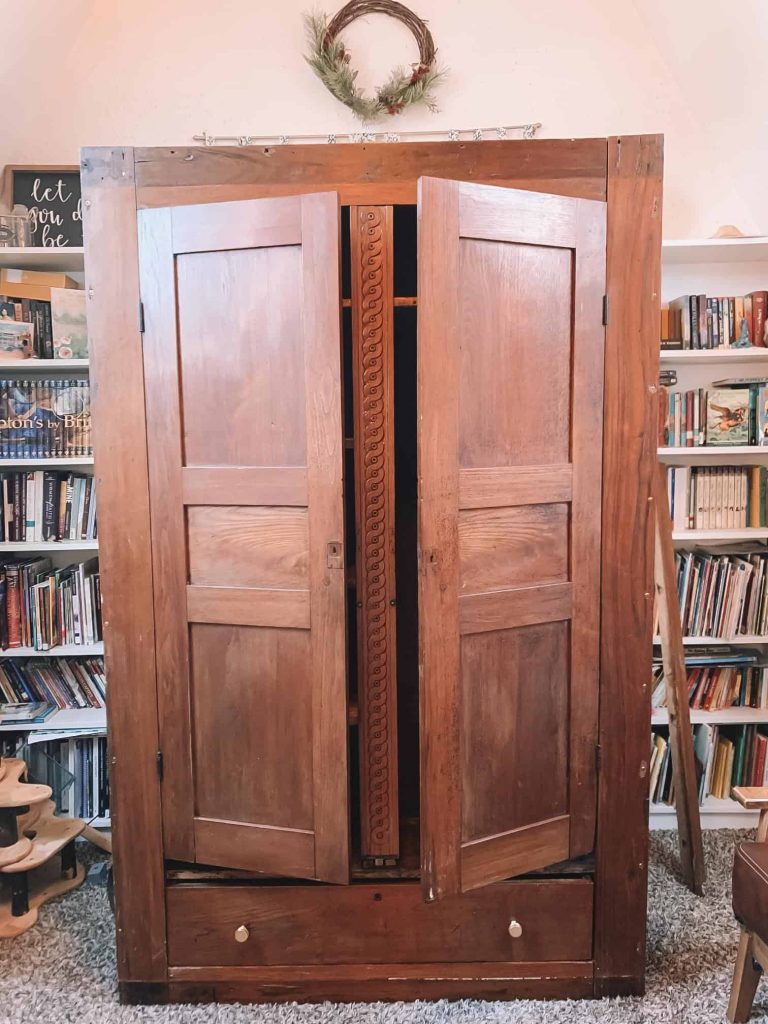 We eventually got her moved to the living room and she truly makes a statement. I would love to keep it in the library or just a wall headed into a main room. But because its so tall and most of the house being a geodome, the walls are to short or rounded for a knockdown or anything tall to go anywhere else. It for sure gives a more timeless feel to an otherwise average living room.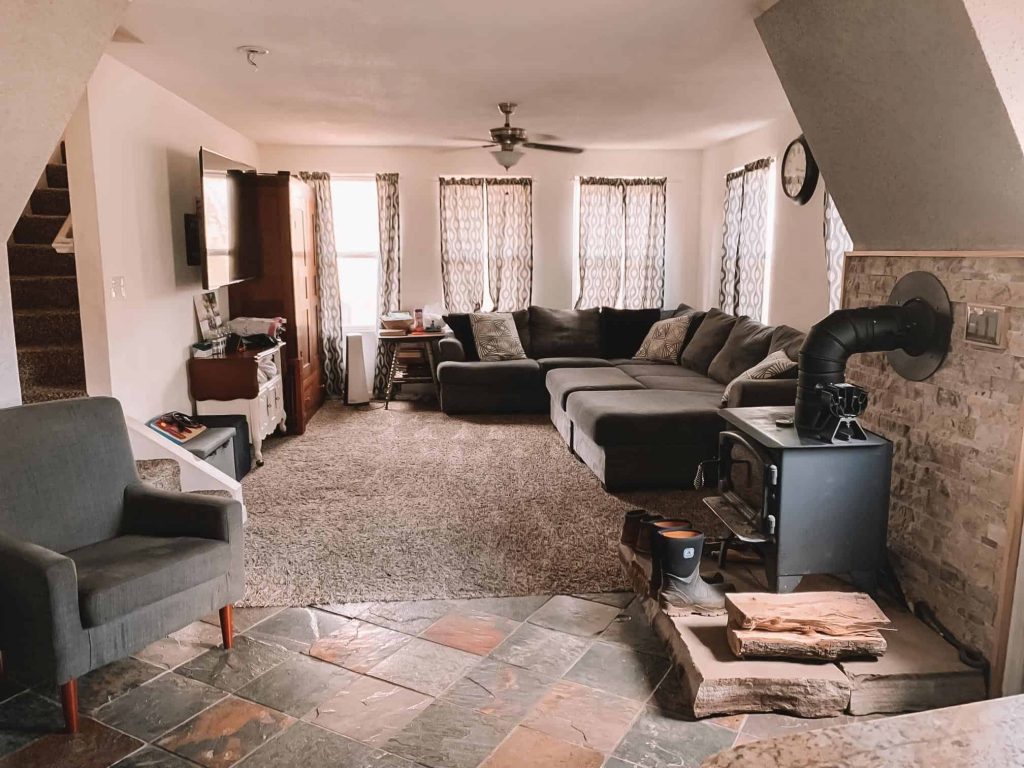 This is why you keep finding old things, even if you live in a newer or modern home. These old pieces bring a coziness and make a room feel warmer than anything you can buy at the big box stores.
I added some baskets on top and stuck all our wool felting supplies inside them. You can find the ones I purchased here. They were the prettiest baskets I could find at Walmart that day and I love the hyacinth weaving along with the fun shape.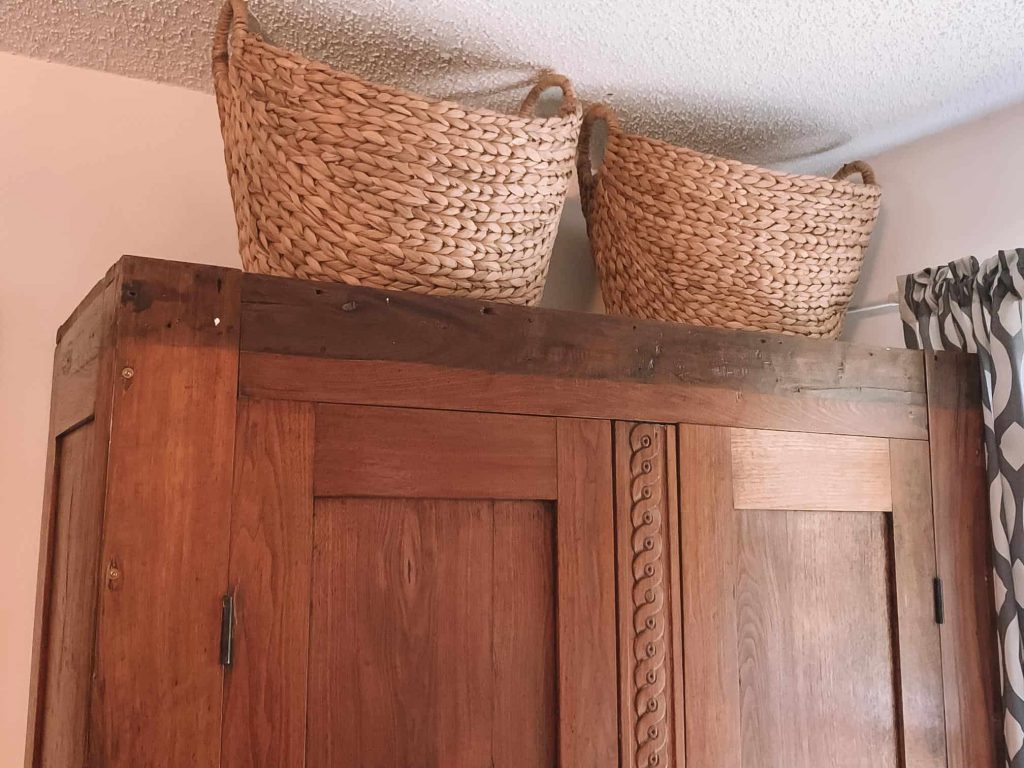 Hope this makes you want to go find one for your own storage needs in your home or to clean one up or save one for fun! This is one of my favorite styles of furniture! I hope to find another eventually to keep all our linens in for our master bedroom! It's on my "treasures to find list!" What's on yours?
Check out these posts from the blog, if you enjoyed this, you may also enjoy these:
Pin this on one of your boards of things that would give you enjoyment! I have quite some pretty ones saved on my board!