Rifle paper co. peel and stick wallpaper review blog post. Have you used peel and stick wallpaper yet? Have you used it on a wall or a piece of furniture? This was my first experience using wallpaper EVER, and I didn't actually place it on a wall. I tried the Rifle Paper Co. brand peel and stick wallpaper on some wooden cubbies we upcycled for our kids loft playroom. Check out the cubbies before/after and my review below!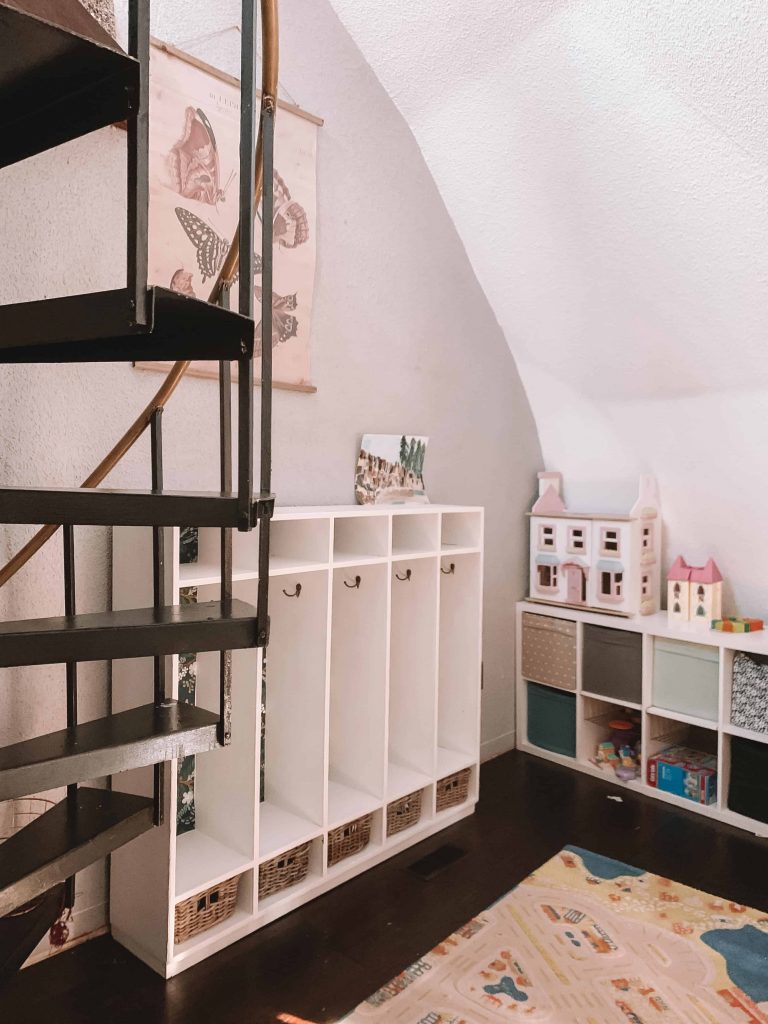 I've really been enjoying learning how to upcycle furniture these past few years. Our home has desperately needed help with more storage and ways to keep it functioning at its best! So I've been searching high and low for pieces that can make our home feel beautiful yet work well for our family of 8. Our home lacks closet space and we don't have a basement or attic to utilize. So an array of furniture helps for storage and making our home warmer and more inviting.
It's important to me for our home to function well and flow nicely for when we have guests coming for a visit. That is just one way our family can serve others. I want my kids to see the work we put in whether great or small produces beauty! And when everything has a place, you and your family can pick up quicker and everyone has an easy understanding of were most items should go. Even your youngest children can participate and help. So anytime you have an opportunity to get something free (or for a really good deal,) really give it a good, long, look. Think of any spaces in your home that could use a decor upgrade or where it may serve your home with better purpose.
Random Gifts: So one of the best ways to get some items is to not turn someone down when they are offering you something. Maybe give it some time and worse case, you pass it on to someone else, or maybe even better, make a trade with it for something you will use!
I had been wanting to try my hand with wallpaper. It's only become more popular these past years so I had been eyeing some different walls and furniture pieces in my home trying to decide what would be a good beginners project!
Without realizing, I had one of those things on hand just sitting in the garage waiting for it's true purpose! Waiting for me to do something fun with it! A sweet wooden 5 section cubby we received for free in the Fall of 2019!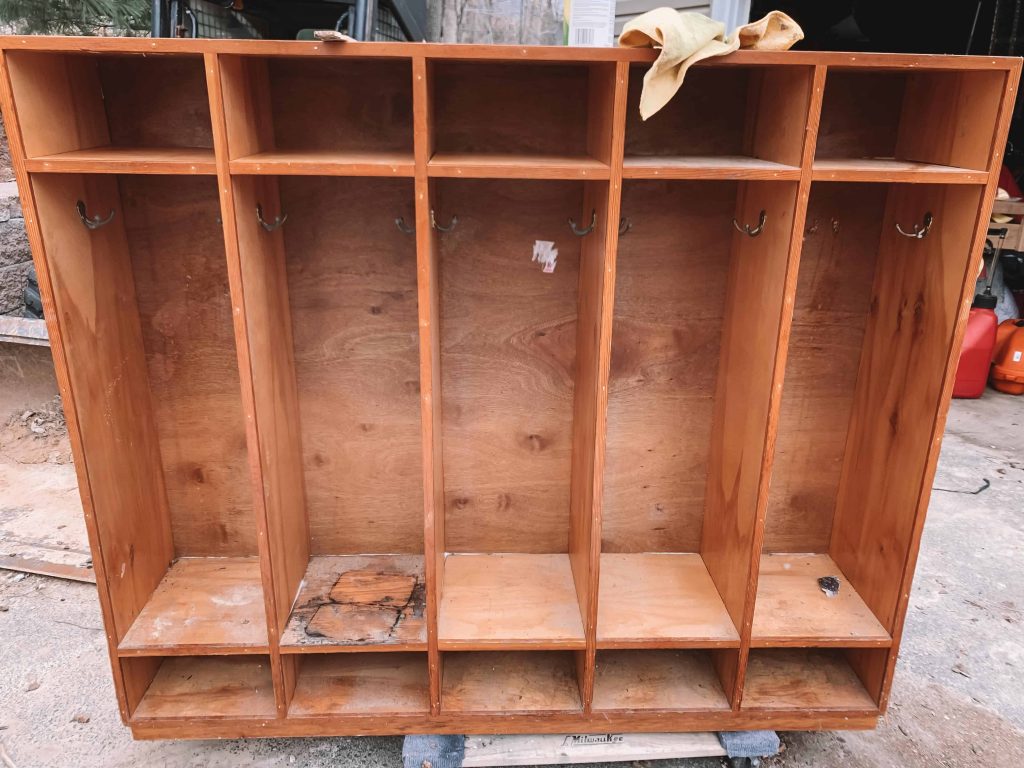 We had it sitting in the garage holding all the leftover unused paint cans and stain. it was shoved way in the back surrounded by totes. The church I grew up in closed their pre-school down and one of the sweet ladies specifically saved this wooden cubby for us. She just knew our larger family could get use out of it. Looking back, I'm really grateful now, because in the moment, I wasn't sure what we would do with it or if we would actually use it. How naive of me! It didn't take exceptionally long to realize we absolutely needed it…
My revelation came after multiple Friday mornings of not being prepared for our weekly homeschool enrichment day. We attend an amazing homeschool cooperative on Fridays. On those mornings, we rush out the door quite early (something homeschoolers just are not used to) and everyone is 'supposed' to have their backpacks, water bottles, shoes, and clothes laid out the night before. Thats just not always the case though, and then our mornings become a little more trial and error. I knew we needed a better system so these mornings could run a bit smoother. AND THEN I REMEMBERED! I remembered this wooden cubby sitting in our garage just waiting for it's purpose to finally be revealed.
Did you know you can use wallpaper on furniture and appliances even? Not just for walls!
I dragged the beautiful large and heavy wooden cubby out of the garage. I already knew what I wanted to do and it included using wall paper for the first time. There are some majorly creative and talented people whom know how to wallpaper some very challenging walls and spaces. I've been wanting to try it out, but not on a wall or space that I truly cared about.I honestly didn't know how this was going to go. But it's been a craft I've been interested in trying my hand at and since this would be going in the kid's play loft, I figured it was a perfect beginners piece.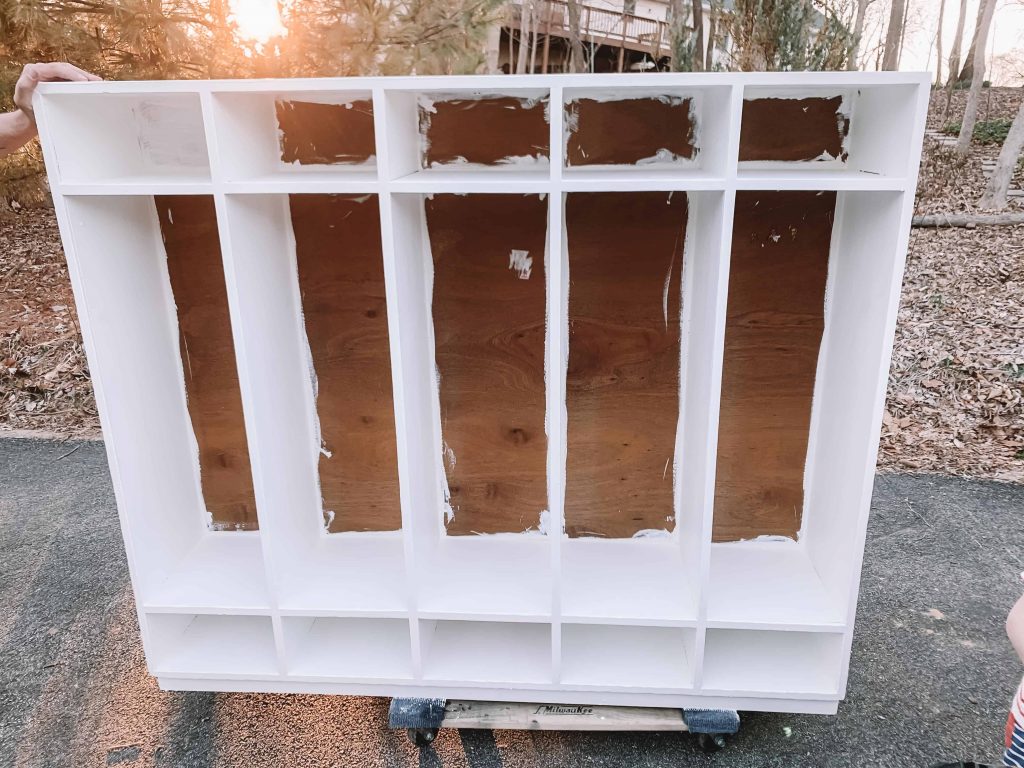 I decided I wanted to paint it white and wall paper the back inner walls of the cubbies for an accent. We were going to keep the original hardware for hanging things because they were a lovely rustic golden tarnish. As in, the hardware was going to look pretty perfect with the wall paper we were choosing.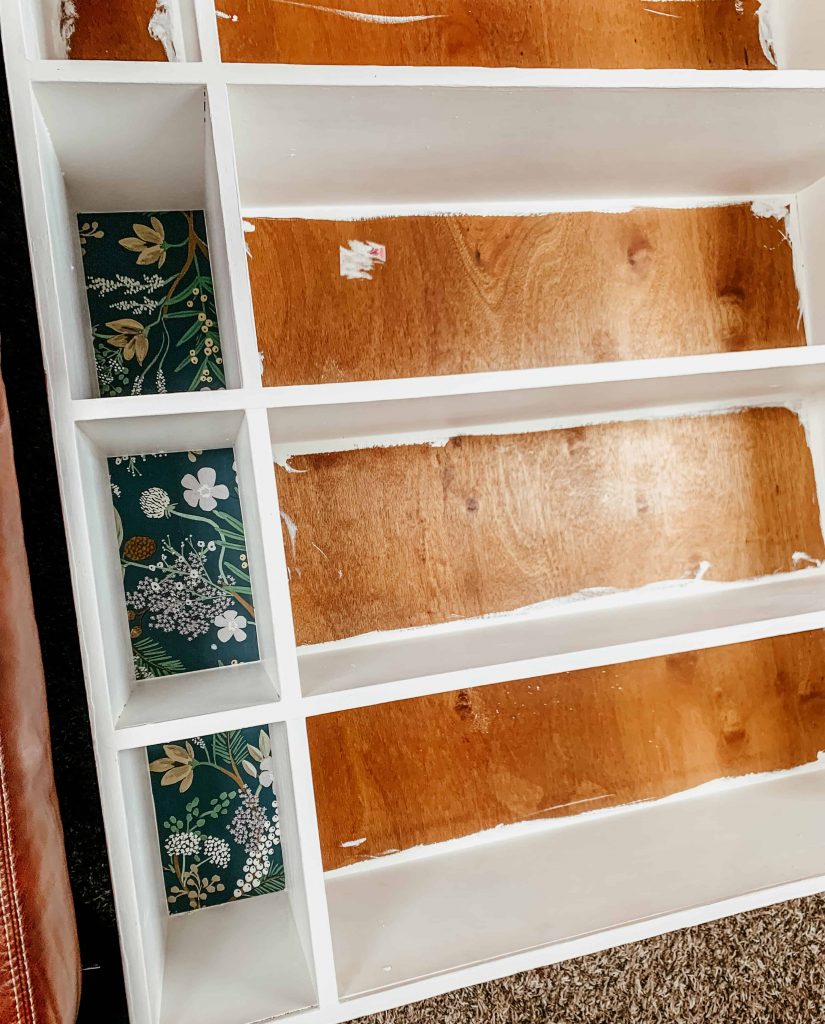 Materials
PAINT: Simpy White by Benjamin Moore. Seriously one of my favorite creamy whites. You can see where we used this color before in this blogpost "Building a Triple Bunkbed." We only had 1 quart sized can and I used it up almost to it's last drop. I used three coats of paint to get a good coverage on this wood. I recommend priming the wood first then maybe you can get away with two coats of paint instead.
WALLPAPER/ 1 ROLL: I didn't need a lot of wallpaper for this project and was optimistic about having quite a bit left to use for some other things. I love the vibrant colors and floral designs by rifle paper co.($65 per roll.) I decided to try their peel and stick wall paper since I'm a beginner. You can also get the glue down kind. Thats on my list to try one day but decided to start with the peel and stick style. It's cheaper and since this wasn't going on a wall for many years of display, I wanted to start with the more cost efficient approach.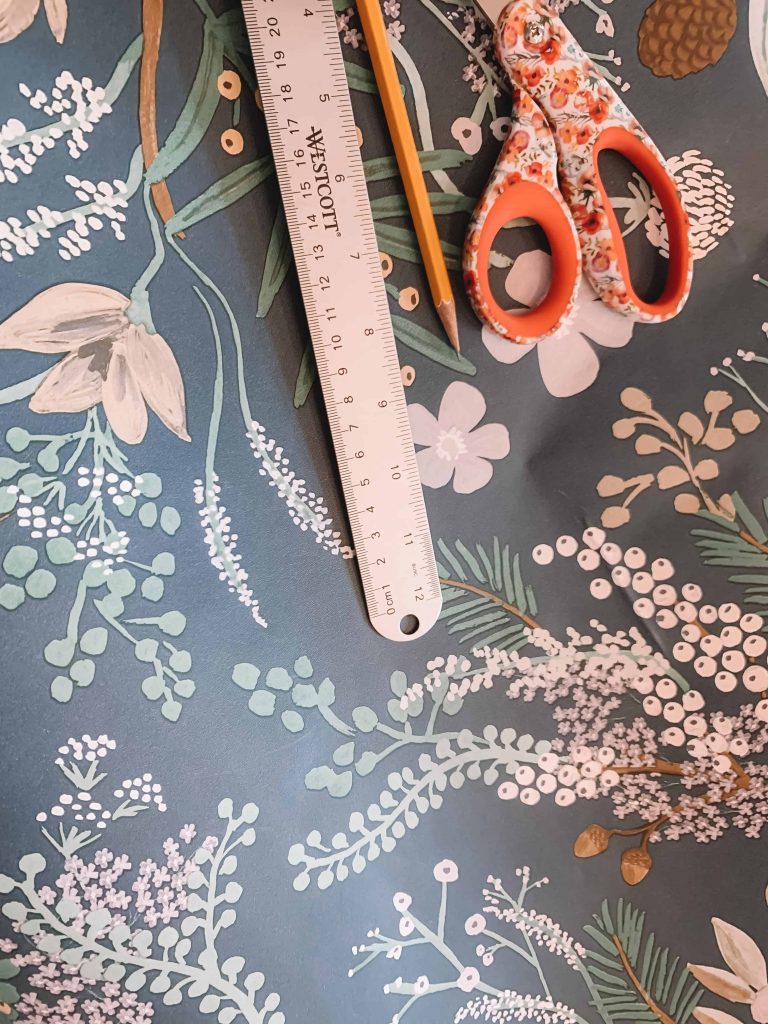 RULER AND/OR MEASURING TAPE: Both are handy depending on what you are wallpapering. We pre-cut our pieces to fit the rectangles before sticking the wallpaper in.
FLAT TOOL:You need something flat to press any air bubbles out of the wall paper as you place it. We actually used an old credit card but you can use a tool like this scraper or even a ruler depending on the shape of what your wallpapering.
PENCIL: To mark your cuts when measuring.
Rifle Paper Co. Peel & Stick Wallpaper: Our Color Choice and Tips for Using
We chose this Juniper Forest in the Evergreen Color for our project. It had white berries with blue and green shades I love. It embodies the colors we were wanting to bring out in our home more. If you are unsure of a print and want to see something in person. They do offer samples for around $3 each if your not ready to commit to one yet. Snagging a variety of samples may help the process go easier and help you confirm the perfect choice. Especially if you are buying more than one roll, you probably want to be extra certain.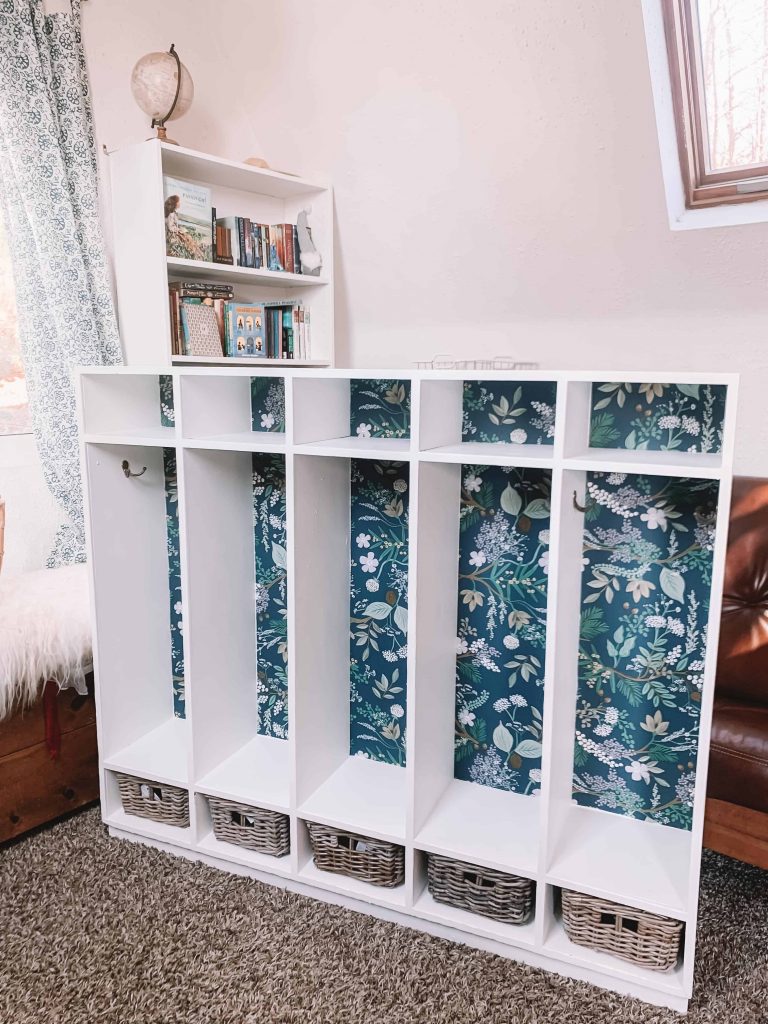 The whole roll is 20 ft. which seemed to be pretty average for most peel and stick wallpapers. So each roll covers 45 square feet total. keep in mind to look at when or how often your wall paper 'repeats'. This may effect how much you actually need. This wallpaper is made in the USA and is premium quality which I appreciate. It is washable which means if you get a stain or marker on it you can wipe it with soapy water (no abrasive cleaners.) Be careful not to use something super rough that could scratch your wallpaper. I recommend just a soft sponge or cloth.
Before sticking your wall paper down, clean the surface you will be placing it on really well. Remove any dirt or dust and be sure it's fully dry before sticking your wall paper to the surface.
When it's time to actually place your wall paper, start at the top and slowly remove the under sticker opposite the printed side as you go down. Take your time, go slow and steady. Use your scraper tools gently to remove bubbles or to help you seal the paper down. It's a process and learning curve. Some of mine turned out wonderfully and a couple spots I had a small crease.
You can lift your paper back up a couple times if needed to fix or restraighten a mistake but try to do that as least amount of possible. It could effect how long your paper will last over time.
A great reason to pick a floral print is because it is very forgiving. If you made a mistake or two, it's very hard to notice verses a very light color or simple repeat pattern. So keep that in mind if you are a beginner as well and first timer. If you are relying on a professional then by all means, pick the ship lap or European modern designs that may be more of a challenge.
More Wallpaper Sources: Below are some more wallpaper ideas if you are looking for more variety and options.
York Wallcoverings (the actual producers of rifle paper companies wallpapers and the oldest and largest producers of wallpaper in the U.S.A.)
Anthropologie carries some beautiful options, and just every once in a while you can catch them during an incredible sale. I for sure have my eye on a few of theirs with the hopes of them going on an actual wall in my home. So I need to keep practicing for when I snag a deal.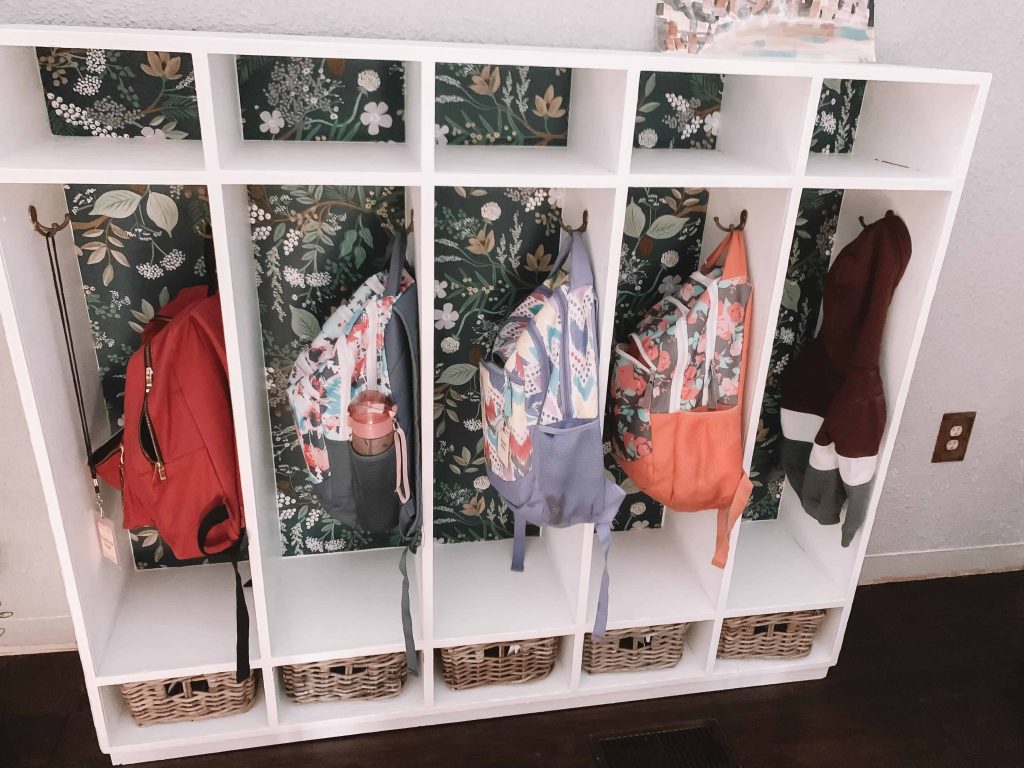 My actual Review:
"I would absolutely use this wallpaper again. It is beautiful in person and feels nice and the premium quality is seen and felt. It was easy to use and any mistakes or fumbles is because of my own lack in experience or patience.
I feel like the more I use it and maybe actually attempting to do a small wall in my home will give me more practice and confidence in my ability to wallpaper. I have some other spaces in my home that I would like to try and wallpaper and I would gladly use rifle paper co again.
Would love to also choose some more of their prints because they have so many lovely ones to choose from. They also were good at providing easy instructions on how to apply the peel and stick wallpaper and how to care for it."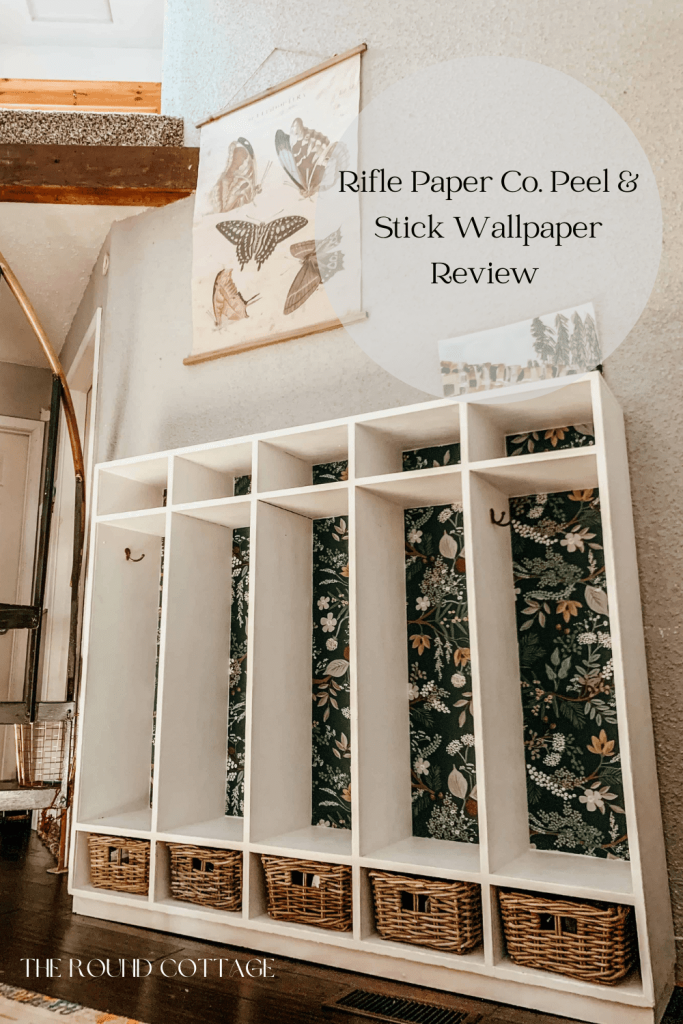 Hopefully I will have a future wallpaper blogpost where I actually wallpaper a wall. Share your wallpaper experiences below in the comments. I'd love to hear your stories!